Results
2015 Men's and Women's 50km USATF Nationals 11/22/2015 "Santee, CA" Page 1 of 11
Santee once again is the location for the USATF 50K Nationals for race walking. The 2015 event on Sunday, November 22, 2105 also included additional shorter distances of 5K, 10K, and 20K. With the 50K Olympic Trials for race walking coming up on February 21, 2016 on this same course, this could be a preview of who could or will make the 2016 Olympic team in three race walk events: 50K Men and 20K Men/Women.

Reported by Calvin Lau
Isn't November supposed to be fall and cool weather? Southern California has been enduring a record four-year drought with extreme heat and unprecedented monsoon weather (What's that? Sudden torrential rain). Adjusting to the weather-of-the-day in sunny California has become getting accustomed to unexpected extremes. The forecast called for cool overnight temperatures in the low 50s and a rising heat into the high 80s or even 90s with average humidity (30% to 50%).
Due to parking control along the event-posted city street where this certified course is located, the tow trucks took longer than expected, and the start of the race was delayed 25 minutes. Prospects for 50km participants finishing before noon virtually evaporated as the sun beat down and temperatures rapidly rose into the 70s, and well beyond, as noon approached.
Under current IAAF competition rules regarding race walking, 50km is a distance wherein records can be set. It is only recently that women were allowed to do 50 km and there is no world record yet on the books. It would be one for the taking.
What kind of field is being drawn to compete in Santee? While most are citizens of the USA, there are other countries represented (in alphabetical order): Brazil, Canada, Hungary, and Mexico. For the featured 50K the ages span almost five decades! There is even one entrant who hopes to qualify an unprecedented eight times to compete in the Olympic Trials. Another is a past Olympian, still in the low end of the age range, who just recently came out of retirement, perhaps as a pacer for the top USA race walker hoping to compete again on the Olympic team at this event diatance. If the current Olympic Games (OG) entry standard of 4:03:00 (h:mm:ss) is met or beaten in the 50K nationals, that would secure a berth on the Olympic team with the contingency of finishing the Olympics Trials (OT) in February.
UPDATE: IAAF announced just days later on November 26, 2015 (Thanksgiving Day) that the OG entry standard was changed to 4:06:00! That is a big-deal, three-minute difference for U.S. race walkers who are on the cusp of qualifying. Knowledge of this change finally percolated through the channels to surface two weeks later. Consider this a late gift on Thanksgiving!
While the individual stories make for an interesting event, nature may overrule any attempted outstanding performance by baking all living creatures with the blazing heat in sunny southern California.
The course features a 1.25 km essentially flat loop that must be navigated 40 times for the 50 km distance. Electronic timing will be accomplished with a D-tag worn on the laces on one shoe of each athlete. A row of tables permits each athlete to have a designated individual aid station, besides the always-provided electrolyte and water station on the flip side of the venue.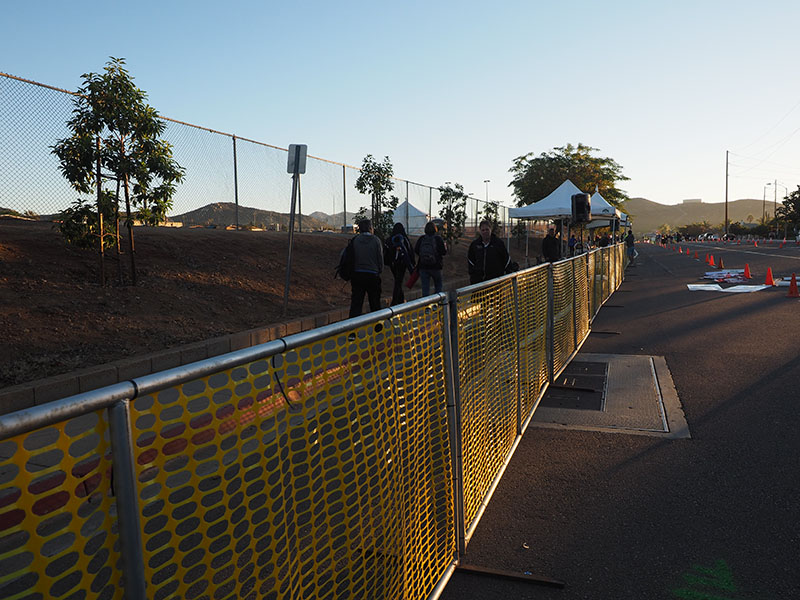 Looking east onto course marked with orange cones, yellow fencing marks one side of finish area at dawn in Santee. Cool now in 50s.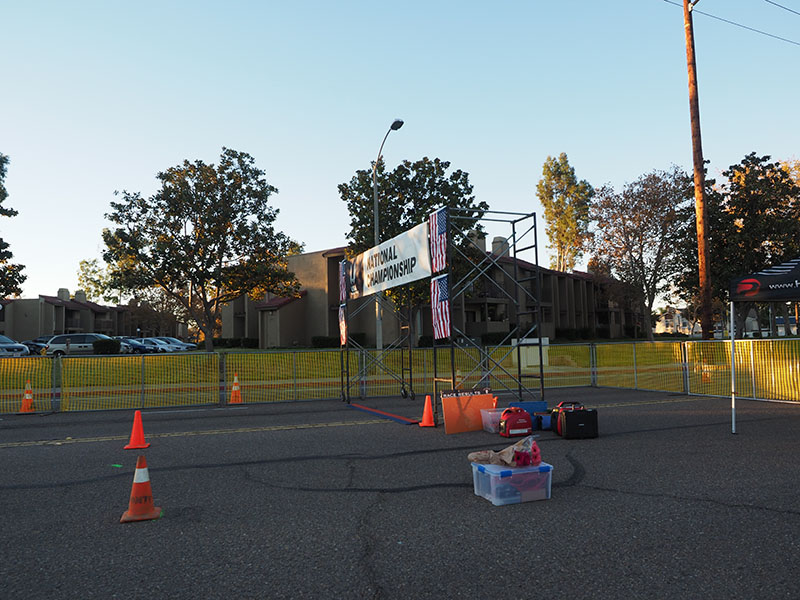 Start line is in place, but only one timing mat exists for entire race, so it will be double duty to move for finish.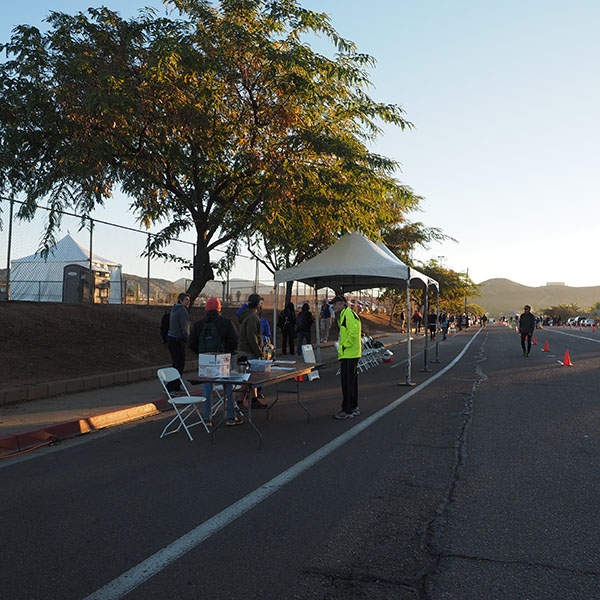 Looking east from finish line. Lap scorers can sit under tent, but most will be on feet tracking and calling off ""laps to go"" to assigned athlete(s).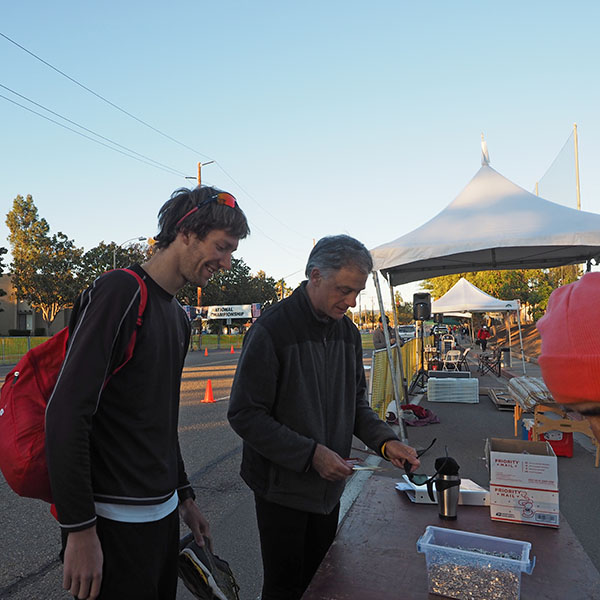 Who is this tall dude? He'll be wearing bib 45. Ray Sharp -- other guy -- is still racing well after all these years!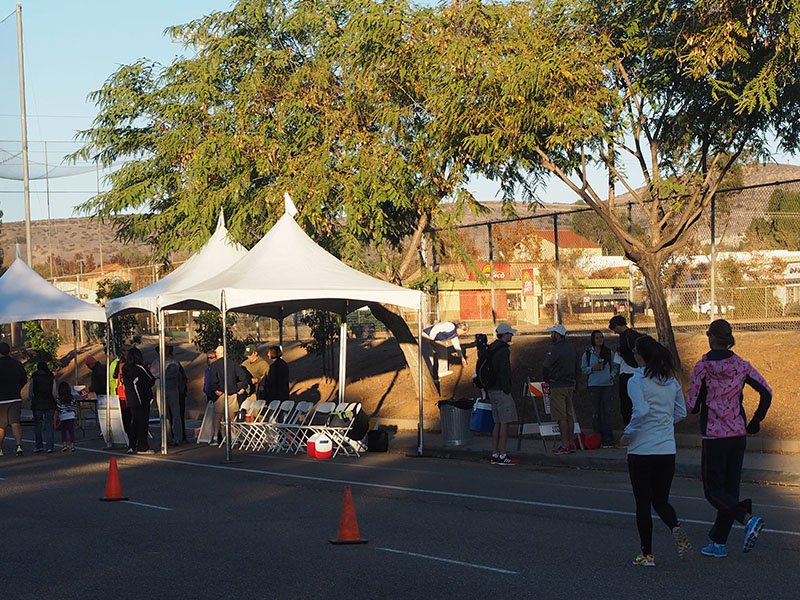 A couple of women elites are warming up and temporarily wearing additonal layers for the morning chill.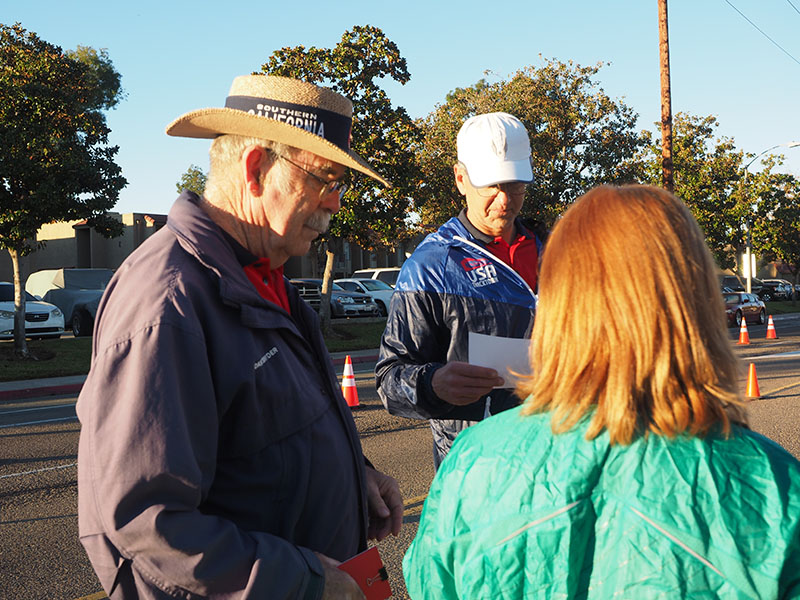 Race officials get ready for a busy ""work"" day of more than eight hours. Thank you for your labor of love.
Multi-athlete aid station is loaded with replenishment items.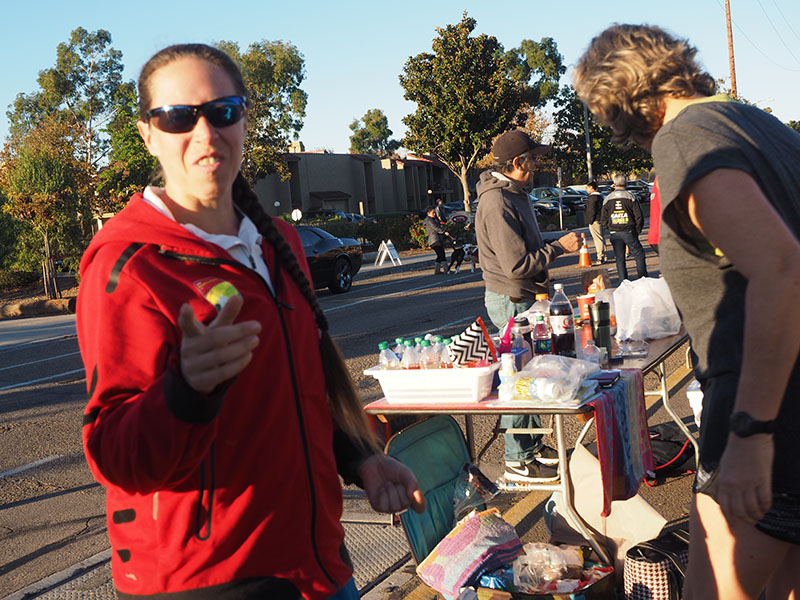 Pre-race women's favorite, Erin Taylor-Talcott, is the one. She's fuzzy-looking now, but should sharpen up by race time.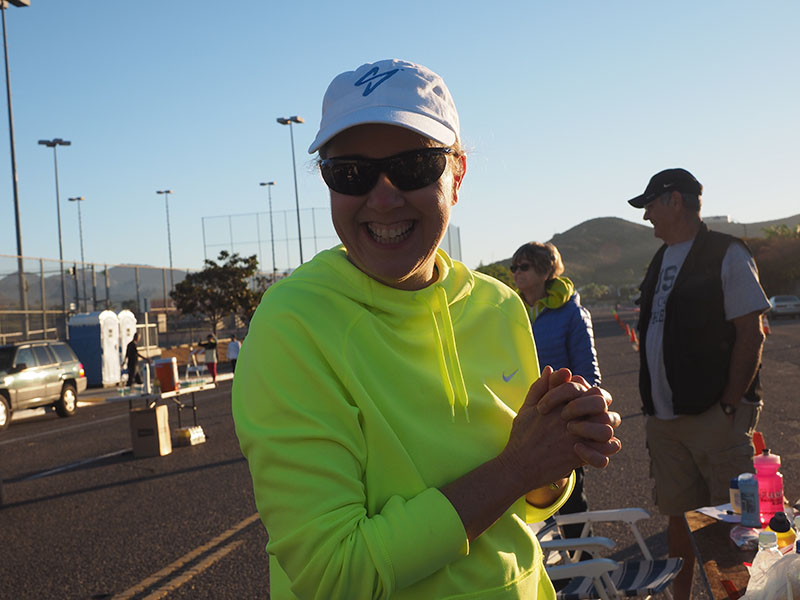 Race walk coach Carmen Jackinsky (nice logo on hat!) is bundled before trying her 2nd 50K. She's ready, again!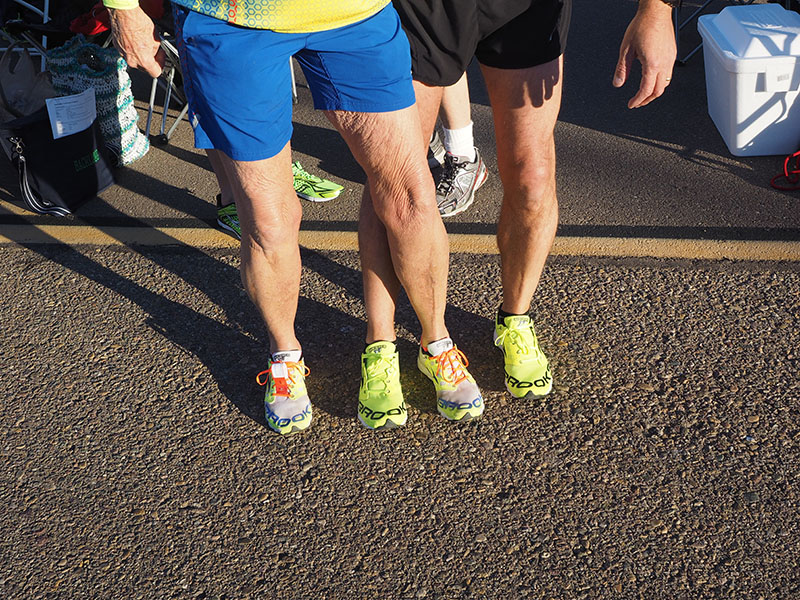 Could be a fun day with the same brand/model racing flats, different colors.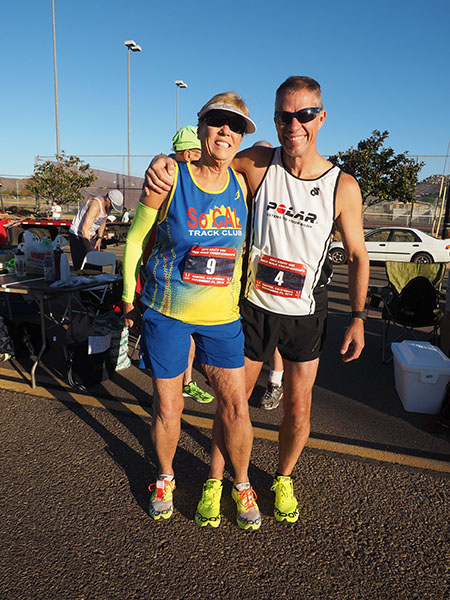 If Darlene Backlund and Dave McGovern had switched, they would have been color coordinated. Well, not a fashion race…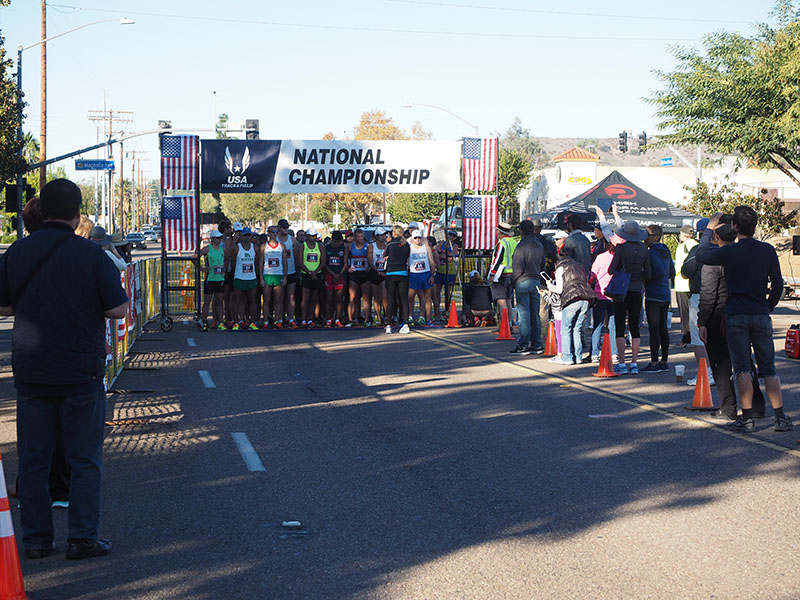 All entrants at start were delayed by 25 minutes because tow trucks took a while to clear side areas. Going to be a hot day.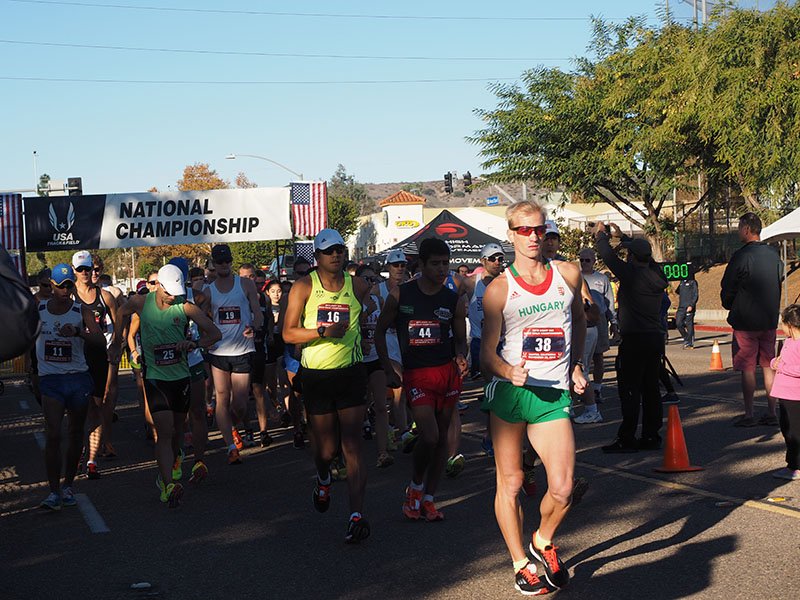 Sandor Racz (38, Hungary) blasts out of start for his 20K at a pace much faster than 50K race walkers want to do.