NARI & Racewalk.com's Quick Guide to Race Walking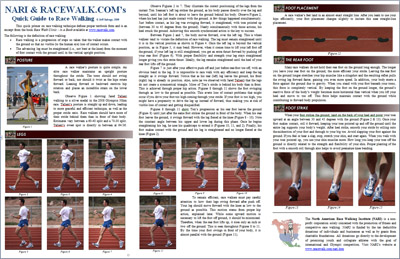 The North American Race Walking Institute and Racewalk.com have teamed up to produce the free "Quick Guide to Race Walking." In an attempt to grow our sport and provide information about how to race walk to the masses, this two-page full-color 11x17 tri fold brouchure is a perfect introduction to race walking. It is an excerpt from Race Walk Clinic - in a Book, a recently published book by Jeff Salvage and Tim Seaman. Our goal is to get the flyer in the hands of people who can help grow our sport. Primarily, this includes college coaches (specifically NAIA), club coaches, and race directors. However, any promoter of race walking is welcome to use it.
The brouchure is available in two forms printed and pdf. If you want to print your own copies, please use our on-line pdf version. If you would like to receive printed copies (within the USA only) please contact the appropriate person below and indicate who you are, what your affiliation with race walking is, and how many you wish to receive.
Contacts
North East U.S.A. - Tom Eastler
South East U.S.A. - Jeff Salvage
Central U.S.A. - Diane Grahm-Henry
West U.S.A. - Becky Klein
In addition, if you come in contact with Vince Peters or A.C. Jaime, they will have many copies.
Also, if you want to help support promoting race walking, please consider giving a donation to NARI.