We all know we should keep a training log. Some of us do, and others don't get beyond the new season's resolution to keep better track of our workouts. Those that do keep track, often do so inconsistently. Now let America's premier team of clinicians Jeff Salvage and Tim Seaman help you record information vital to your race walking progress in Excellence in Training – A Race Walking Specific Training Log.
Excellence in Training has space for 52 weeks of 7 days a week training.
Each day has space for the date, location of the workout, warm up distance, warm up pace, workout type, cool down distance, cool down time, additional space for splits or notes about the workout, total daily distance, and room for a second workout.
In addition, each week has a photograph of an internationally elite walker with some basic biographical information included as well. Beneath the photograph is space to write down any weekly notes you may wish to add.
In the back of the book, there is space for you to record your race results with the following fields templated for each race: date, distance, name, rank/place, time, and location. We also include space to record your monthly distance totals as well as other yearly totals. Finally, there is room in record your personal record progression for indoor races (1 mile, 3000M, & 5000M ) and outdoor races (1 mile, 3K, 5K, 10K, 15J, 20K, 30K, 40K, & 50K).
Sample Images from the Text
Observe some of the pages from Excellence in Training - A Race Walking Specific Training Log.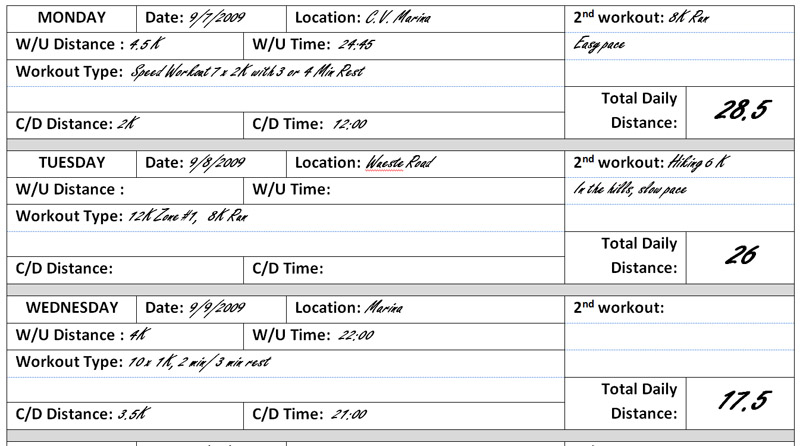 Daily Training Log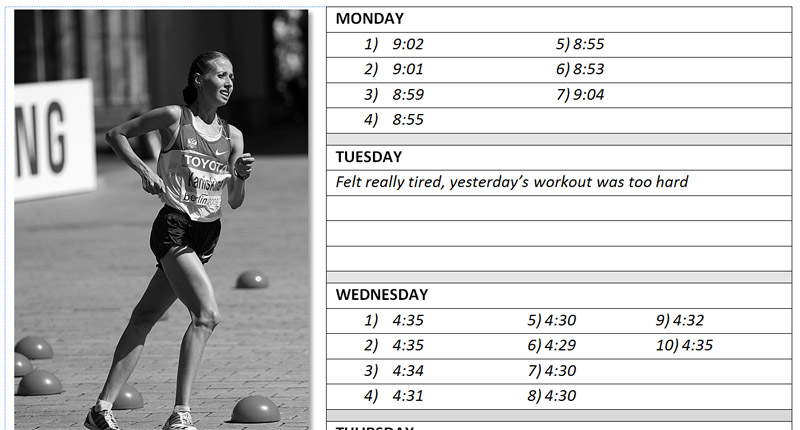 Additional Space for Daily Workout & Elite Photo


Race Record