2016 Rio Olympics Race Walking Coverage
So after all the hype, we headed to Rio. We had a long road ahead, even if it were in the air. We flew from Philadelphia to Miami and then had several hours of layover before heading to Brazil. Sadly, as we were about to board our plane, we saw this out of the gate windows.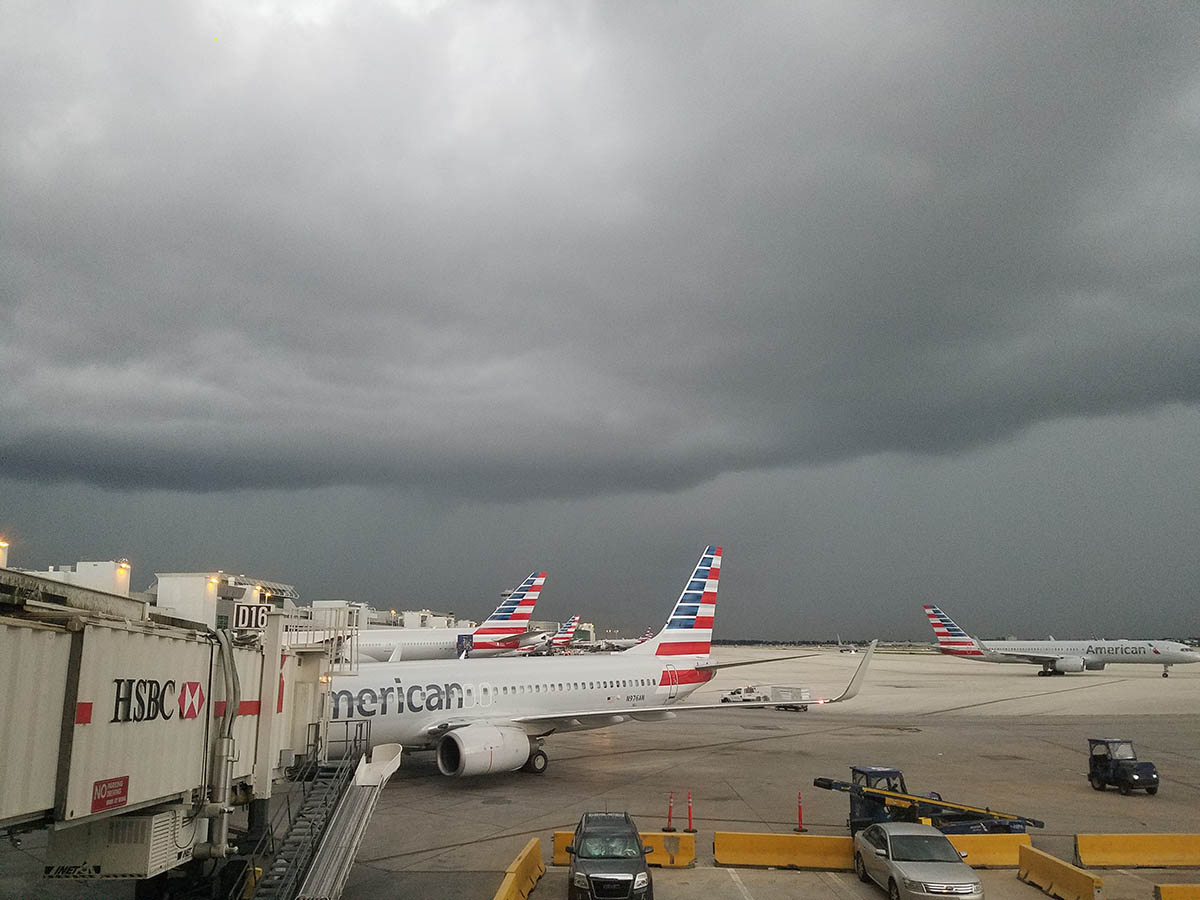 Luckily, our plane was already on the ground and it only added an hour to our trip. From Miami, we overnighted to Sao Paulo with another few hours until we departed for Rio. All went smoothly, customs was simple and we met a lovely couple with family in Rio who gave us lots of advice. Our bags arrived and we were ready to tackle our minor task list that stood between us and relaxation. First up, a taxi. We were given conflicting advice, but since one of our new friends was originally from the area we followed her advice and took a prepaid certified taxi. For those still coming down, we did this in the same area as baggage claim and it was very straightforward. We are on the far end of Rio in the Barra da Tijuca area and it was a little over $50. Given the distance, we thought it was reasonable. Stepping into the terminal the military presence was very obvious. We were later told that most of the country's military was now in Rio for protection. This certainly is a fact we appreciated but at the same time a bit imposing. We then tried to get a local sim card. After circling the terminal a few times, we found the place that advertised selling them, however they were sold out. We figured we'll deal with it later and focused on getting local currency. This proved to be a challenge. We typically pull cash from ATMs as our bank doesn't charge us a fee. We find that's the best rate you can get. However, even though we called our bank ahead of time to warn them what countries we would be in, they locked out card out. (We have since called the bank and they claim it will work now. We will see). We also carry some American dollars as a backup, I don't know anyone that uses travelers' checks these days, and cringed as we converted cash at the airport. We paid about a 10% surcharge when all was said and done for our bank's incompetence.
Cash in hand, we found our taxi and were very pleasantly surprised to be greeted with an engaging driver who had a fairly good command of English which he claimed to learn from watching TV and movies as well as listening to music. I couldn't imagine learning a language that way, but then I am linguistically-challenged. He was flush with advice, including a faux pas I would have easily made. He said that if you can't speak Portuguese, don't try to speak Spanish. People will be insulted. Given that was my plan, I lost any advantage I could have had.
We certainly hit our fair share of traffic, but he was navigating with the Waze traffic app so he routed us as best he could. Apparently, they close one lane to locals, so that taxis and other official vehicles can zoom past. If we were stuck in the local lanes, it would have taken hours. We passed the decrepit slums that looked like they could tumble over with a strong gust, and of course, they were not an area we planned to visit. The divide between the haves and have nots was tremendous, but that's typical in a third world country. Instead we arrived in a little over an hour, but then had a failure of communication to find our host Carla who we found through Airbnb. After a bit of circling, we found our place and the apprehension of whether we chose wisely mounted. For all the talk on dishonest cab drivers, he didn't try to raise the price given all the extra driving, then after he pulled out, we realized I left a phone in the car. We called him and he brought it back. Nice to restore faith in humanity. Fortunately, Carla was delightful, the apartment magnificent with a wonderful sunroom to take in the views of the beach.
After chatting for a bit, unpacking and settling in. Overall we were feeling really good about our choices and felt the media really overblew everything. Carla offered to drive us to the mall where we could get sims. Her daughter was there watching a movie so it was perfect timing. The shopping center wasn't far, but as we arrived the traffic was insane. We were in a complete standstill for at least 15 minutes. It was then that reality set in and not in a good way. I had asked Carla about gas prices, because I couldn't tell was it super expensive and measured in liters or was it super cheap and in gallons. Given the amount of ethanol they produce I figured it could go either way. It was liters and very expensive. However, then she started to search for a word to describe why her car was a thirsty one (poor mileage for the pun-impaired). It was because it was bulletproof. The reality hit hard. Carla explained that in traffic like this, it was very dangerous, because people come up to your car and pull a gun on you to take your bag/money. You can't move the car because you are stuck in traffic and often they can take your bag and shoot you anyway. Horrifying indeed and a sober dose of the dangers certainly made us highly appreciative of the dumb luck that we were staying with Carla. 
We scoped out 4 cell places, all had fairly poor deals where they were completely unbalanced. So lots of data, virtually no minutes or lots of minutes and virtually no data. We settled on one and it was a disaster. Carla translated for us, we couldn't imagine how poorly it would have gone if she didn't, but they never got our phones to complete work. The voice works, but nothing else. When we challenged them for the third time they basically told us we were SOL. Lovely. Not sure I will waste the time figuring it out and will just turn my USA phone on during race days ($5 per day from verizon, but no limits other than your typical usage rates).
We slept great and went out exploring the next day. We walked along a path by the beach. The waves were crashing about 4 feet or more in the aqua green shades that you hope to find in a tropical location. We were told the sewage infested waters were up by the venues and not here, however in addition to the water being very cold the rip currents were very dangerous, so we stayed on the path and enjoying the outcropped islands popping out of the surf and dotting the horizon of the ocean. Although the water appeared clean, the stench of garbage pails intermittently invaded our personal space, which wasn't easy given the fierce wind. Hopefully, with the course off the shore a bit and perpendicular to the shore, it won't be as bad for our races. The good news is with the cool temps (70s) and strong winds, we felt no bug presence at all. Now we are wearing clothing doused in permethrin (an insect repellent that stays on your cloths for about 4 washes) so we weren't going without protection, but didn't feel the need to spray any on our bodies. A VIP car passed us with a sizable escort of military personnel surrounding it. People were certainly not taking chances.
Now if you think Rio and the Olympic Committee isn't take safety seriously, look what my wife Jennifer found in her bathroom at tonight's restaurant. Notice they are free! Hopefully, posting this won't get my site marked for adult material ;)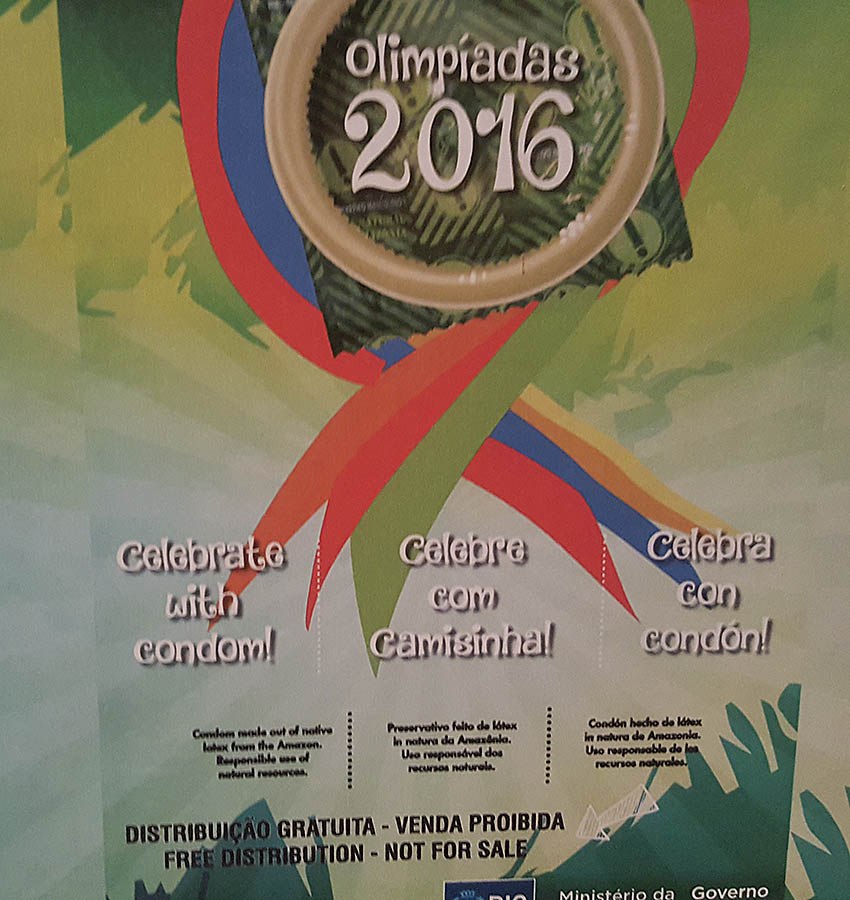 So we are ready to enjoy and cover the races tomorrow. We are flying shortly after the race, so I hope to complete the photo story in route and upload it very late on the 12th.
Special During the Race Walks in Rio, Super Prices until August 22nd. Products to ship on August 22nd.
Race Walk Clinic in a DVD and Race Walk Like a Champion DVD - Combined - Including Shipping Domestic or International!
$55 including S&H - Normally $65.99 USA and 74.99 Internationally
USA orders only - Get a discounted Race Walk Like a Champion Book, DVD or set of both.
Book & DVD Set - $40 including S&H - Normally $59.95 + $6 S&H.

DVD - $30 including S&H
 - Normally $49.95 + $4S&H
Book - $15 including S&H
 - Normally $23.95 + $4 S&H