Race Walking Training
2009 IAAF World Championships - Race Walks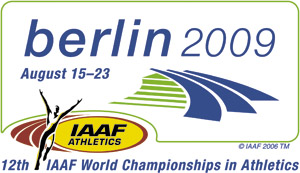 RaceWalk.com is proud to provide coverage of the race walking event at IAAF World Championships berlin 2009TM. The 12th World Championships are a first for many reasons, especially for the race walks. Traditionally, championship track and field meets hold the event of race walking on a combination of the track and road. Completing one or two laps on the track in front of the fans in the stadium, the race walk then usually proceeds to a 2K loop and then returns to finish on the track. However, here in Berlin the entire race (in addition to the marathon) will be held on a 2K loop starting and finishing at the Brandenburg Gate. I have to say the Gate might make the most impressive race walking finish line to date. Sitting atop, overseeing the event is Victoria, the Roman goddess of victory.

In addition to the uncharacteristic course, the races start much later than usual. Upon first arrival I didn't think this would present an issue as the temperature peaked out around 70 degrees. However, the predicted temps for Sat and Sunday hit78 and then 86 degrees. This may prove to be a factor as the race progresses.

Another first is the lack of American participation. Therefore, my coverage will be more global in scale partially due to choice and partially due to necessity. For the first time, as far as I can tell, we are only sending a single American race walker to the Championships. Teresa Vaill. We are not sending any men.

The men's 20K start list is published and the race features 50 athletes. The favorites look like Valeriy Borchin (Russia), Francisco Fernandez (Spain), Eder Sanchez (Mexico),Erik Tysse (Norway) and Yafei Chu (China).

The women's 20K should be quite interesting with Olga Kaniskina still the heavy favorite. That said, Kjersti Platzer and Sabine Krantz should put on a good battle for 2nd and hopefully challenge Kaniskina's dominance. Sabine recently dethroned Platzer at the IAAF Race Walking Challenge winning in impressive fashion. Platzer, winner of two Olympic Silver medals is sure to look to reverse the outcome from La Coruna.

The men's 50K looks to be a rematch from Beijing with Yhann Diniz (France), Denis Nizhegorodov (Russia), and Alex Schwazer (Italy) battling for a spot on the podium.