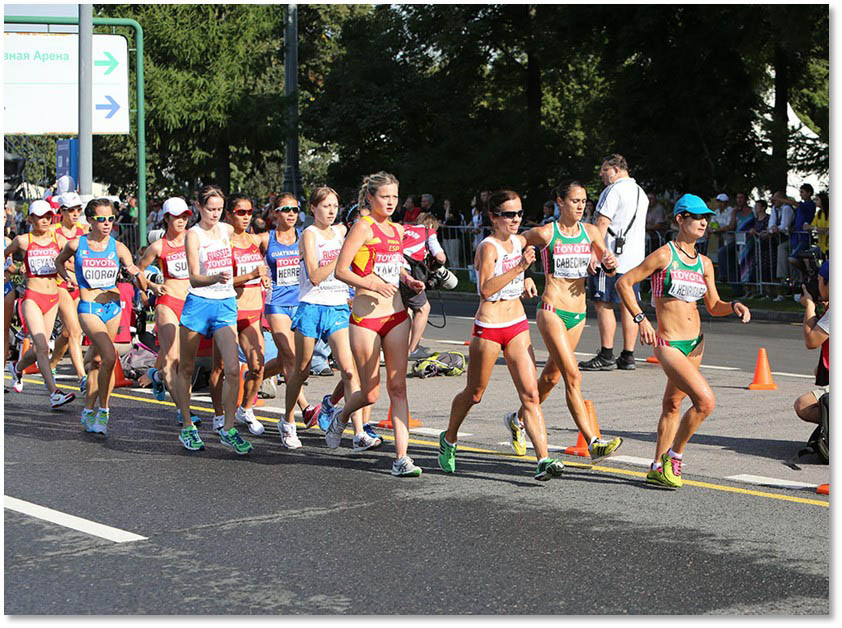 So your are convinced that you should walk, but you may still be unsure of whether you should race walk. Sure it looks a little different, but by learning to utilize more of your muscles, you will get a better workout and learn to walk faster. How much faster, the current records are:
1 mile: 5:38.2 (m)
3 km: 11:40 (w) @ 6:15 / mile
5 km: 18:07 (m) @ 5:50 / mile
20 km: 1:17:16 (m) @ 6:20 / mile, 1:25:02 (w) – 6:50 / mile
50 km: 3:32:33 (m) @ 6:51 / mile
Think of it. A world class race walker can walk 5 miles farther than a marathon at under 7 minutes a mile! While most of you don't aspire to walk that fast, shaving 5 minutes or more a mile from your workout time will save you hours per week/month.
Race walking also allows you to work out harder than pedestrian walking. The International Journal of Sports Med (1984 Apr;5(2):74-7) found that During maximal exercise, running and race walking resulted in a similar VO2 max and post-exercise blood lactic acid concentration.