Results
2017 Men's and Women's 50km USATF National Race Walk Championships 1/28/2017 "Santee, CA" Page 4 of 5
The true race is starting to unfold. Is there someone who has conserved energy and has enough in the tank to fly by the other competitors? Or will it be a war of attrition wherein the one who slows the least walks away onto the podium?
There are some grateful athletes who finished in record times to earn gold (blue ribbon), silver (red ribbon), or bronze (white ribbon). With this new course any time will be a course record. Whether it is a PB or season best (SB) is another matter.
The Tokyo Olympiad lends a world perspective on American performance. The current Olympic Games (OG) standard is reachable by a few elite Americans. In 2016 for Team USA being able to fill only three spots out of a potential nine for Rio translates into some serious preparation for Tokyo in 2020. Making the OG is far different than making the podium. Some very serious development and resources will be needed to rally the funds and discover the talent that lays latent and diverted to other ""money""sports.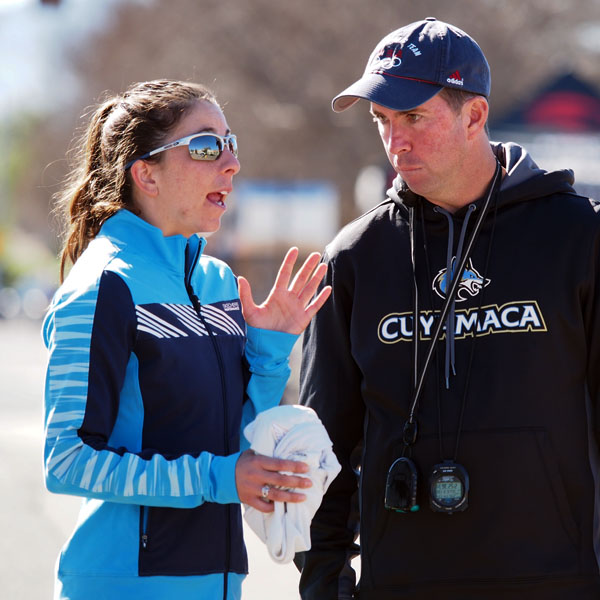 Miranda Melville is her effervescent self as coach Tim listens. She did the 20k in 1:38:40 at 7:58/mi.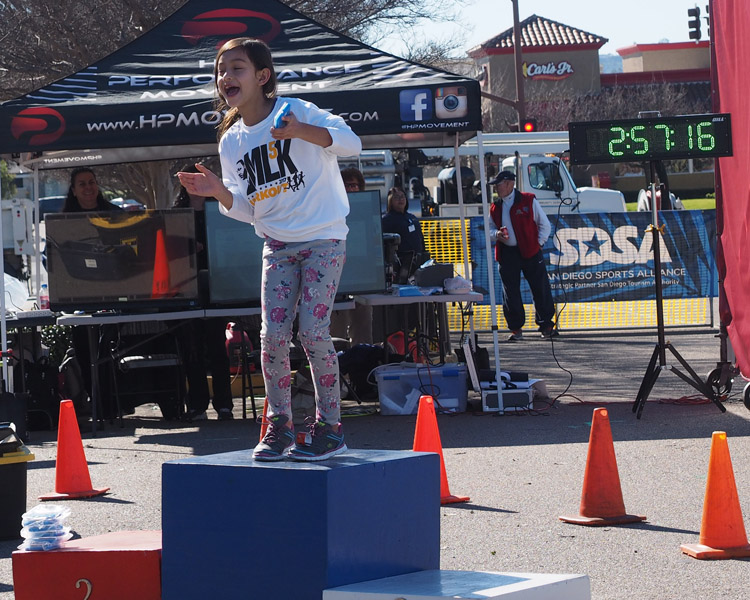 Sayetzi has her turn on the podium. She was so ecstatic to finish the 2.5k fun event in 21:02 at 13:33/mi.
Her first medal in her first race. What a bright future.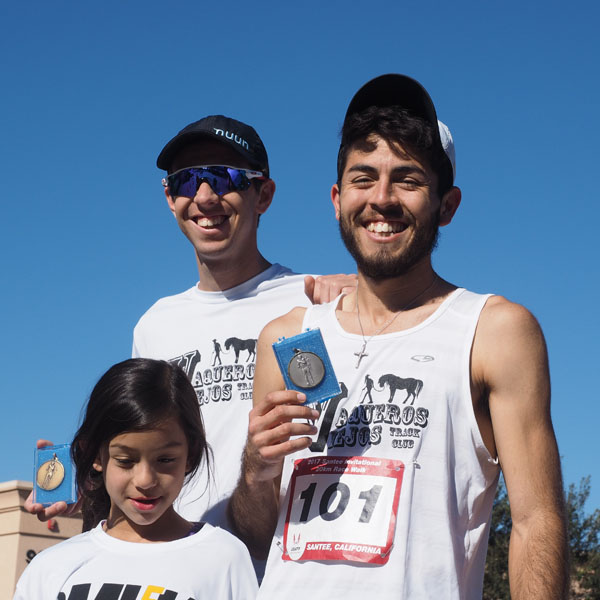 Sayetzi joins the 20k bronze and silver medalists, Alexander Bellavance and Emanual Corvera (101), who finished in 1:38:47 and 1:38:39, respectively, at just under 8:00/mi.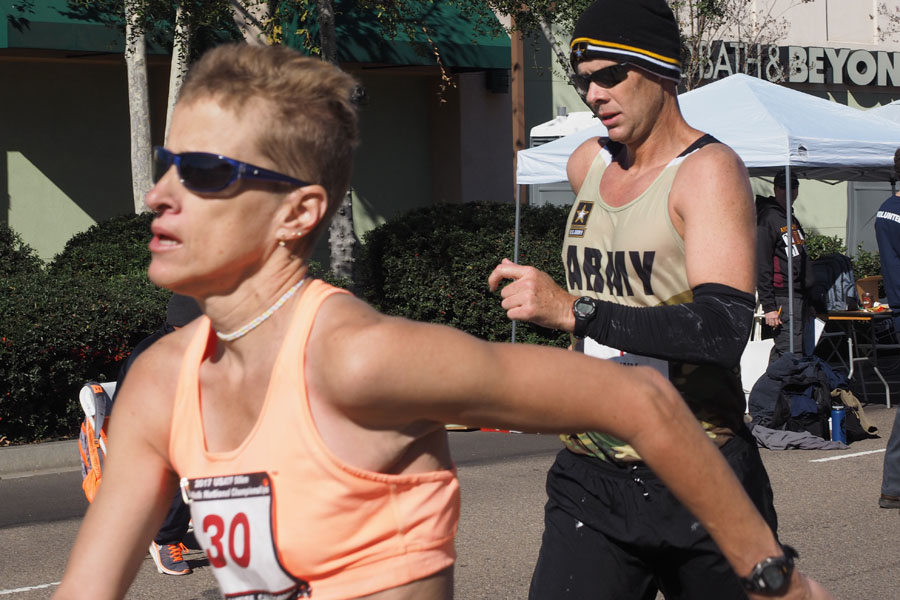 Teresa Vaill has 14 laps to go and Nunn has ten.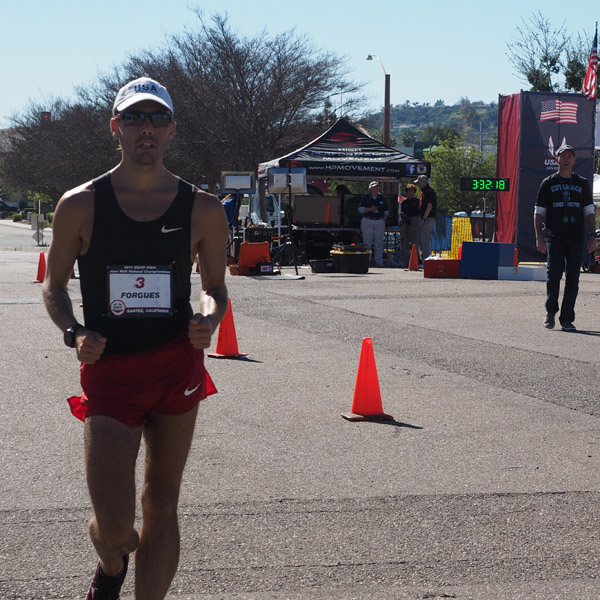 A bit later Matt Forgues has eight laps to go.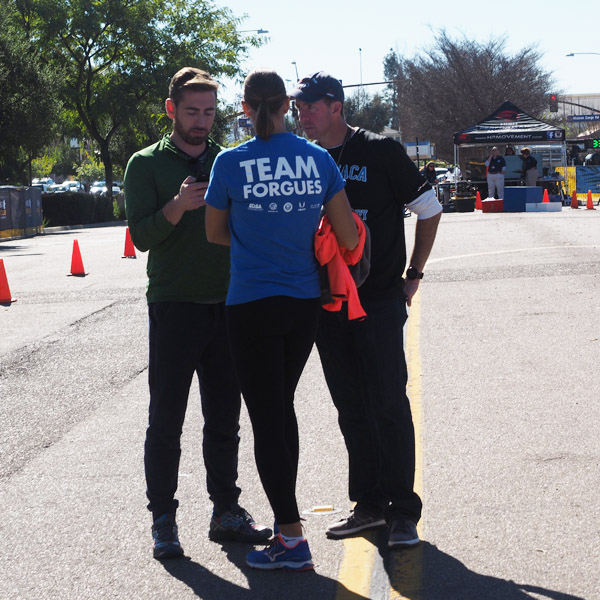 Matt's support team has seen him proceed in PB style.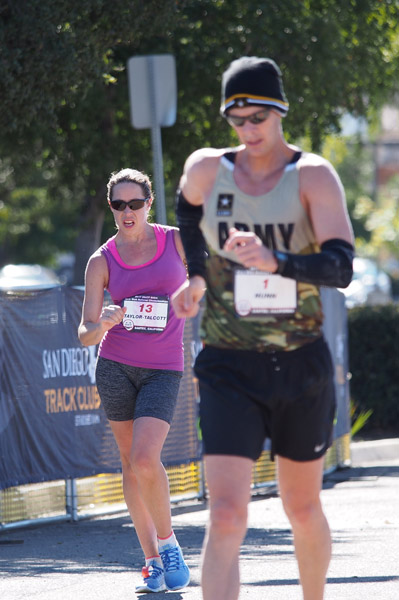 Erin with eight laps to go continues in her smooth style, while John has six.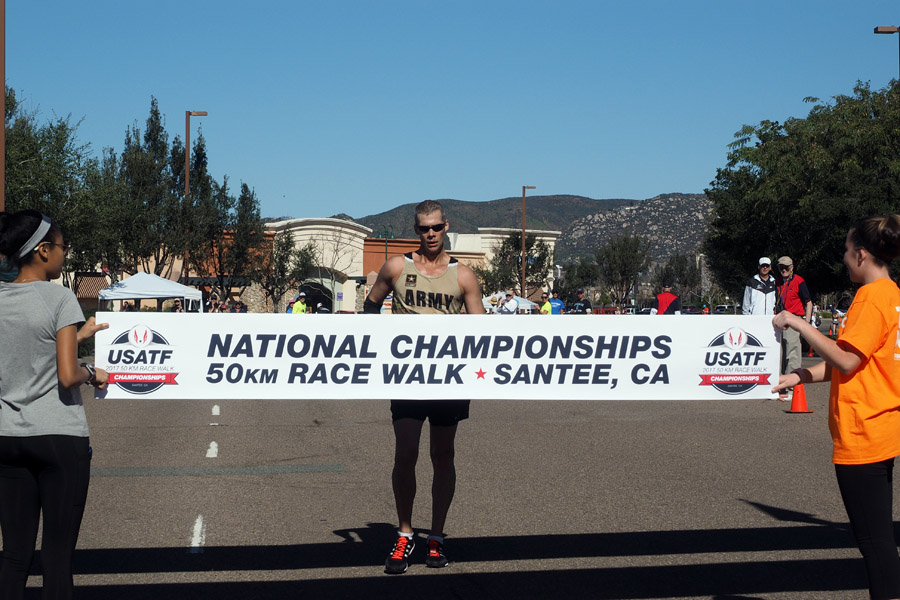 John has been dominant in the U.S. for the 50k. He won in 4:18:59 at 8:21/mi. By comparison his Rio Olympic time was 4:16:12 in 42nd. It's over three years till the Tokyo Olympiad. Perhaps Nick Christie has discovered the ""secret sauce.""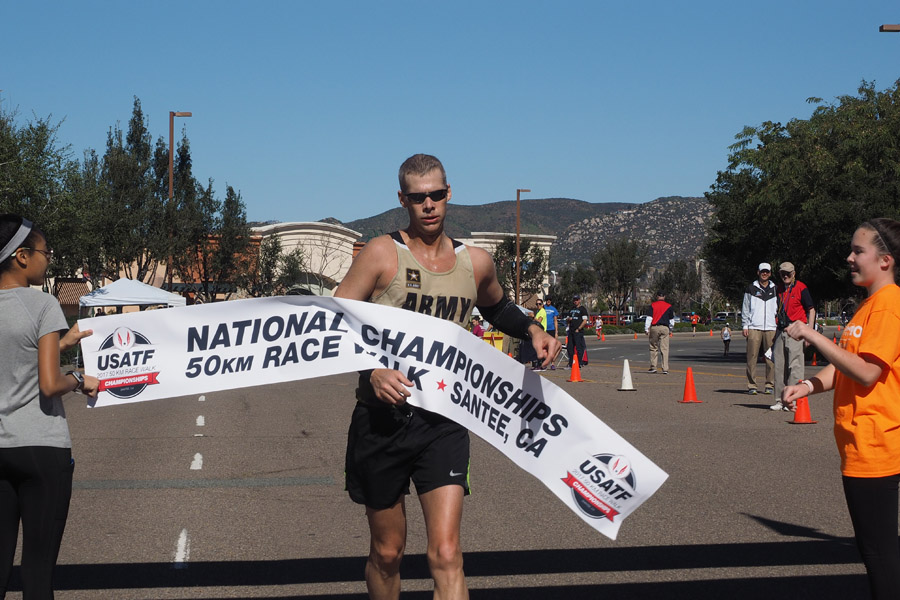 His 12-year-old daughter Ella, right, is happy.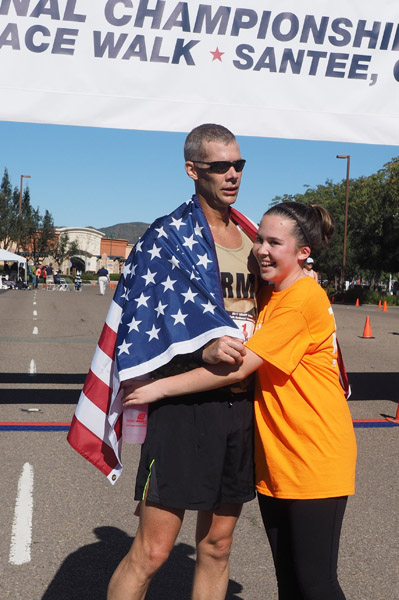 Nothing like a hug after more than four intense hours.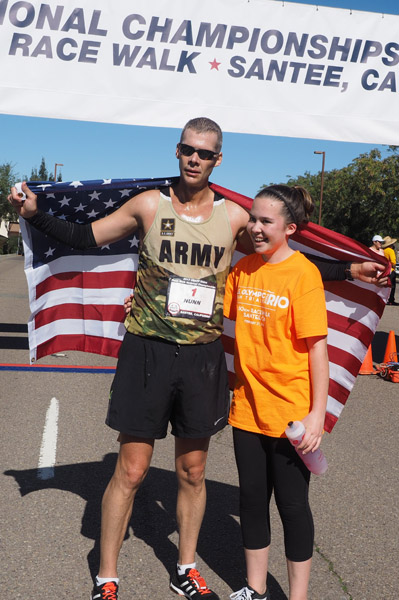 It's been a challenging morning.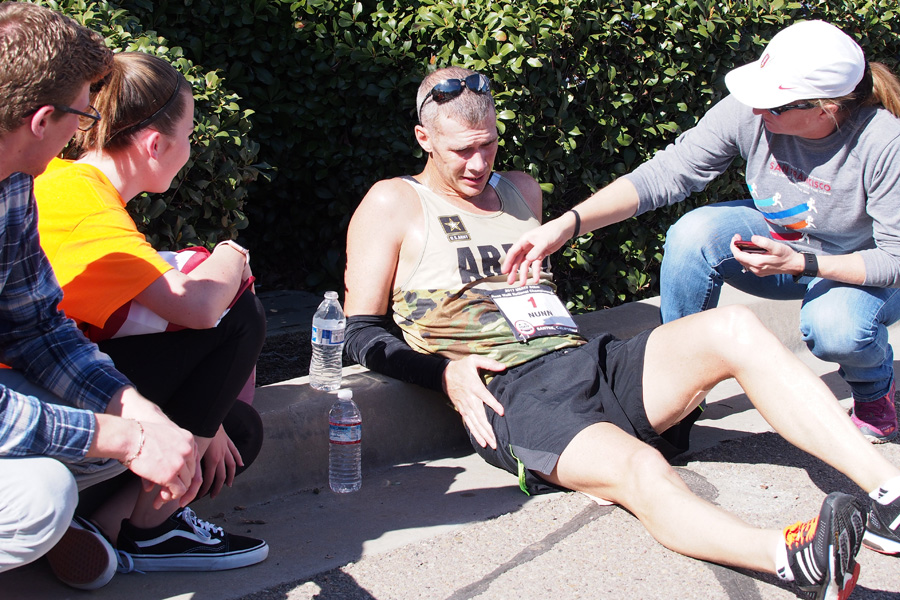 John can finally sit down.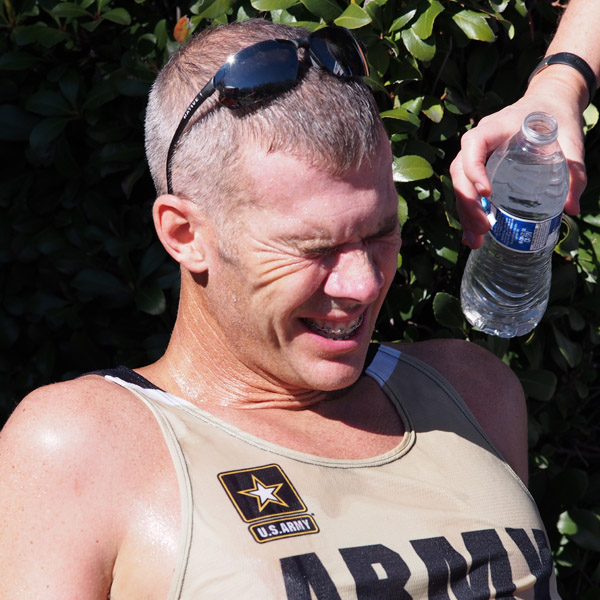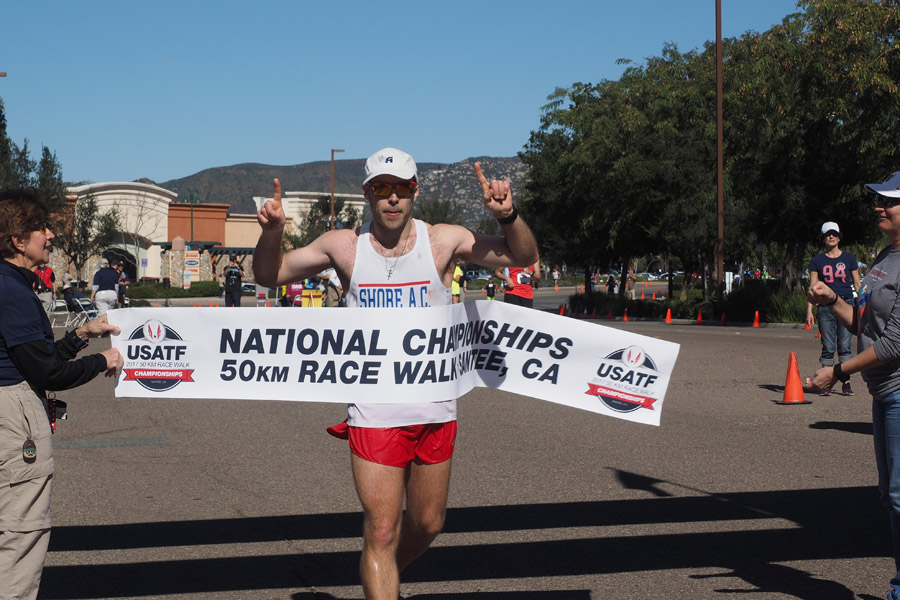 Michael Mannozzi came in 2nd in a PB 4:26:46 at 8:36/mi.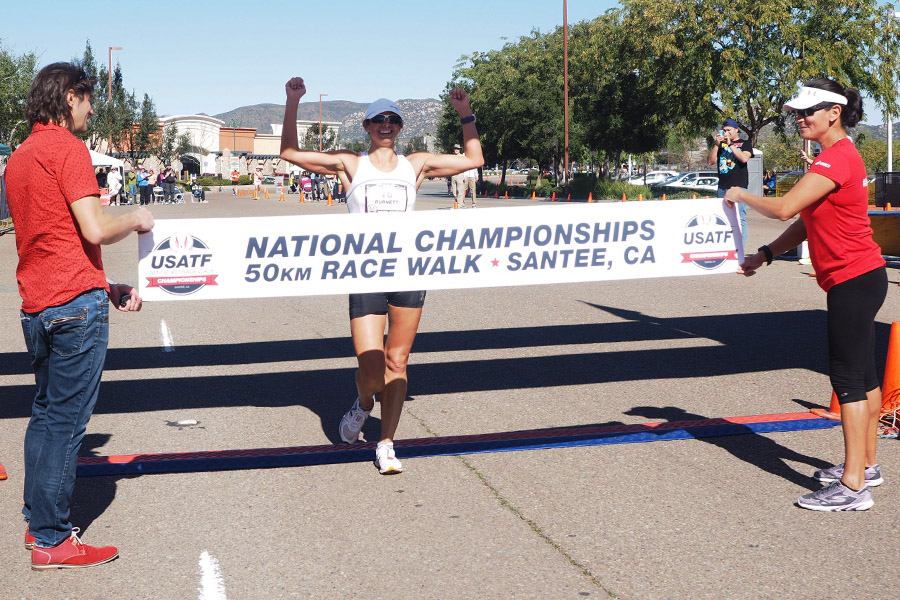 Katie Burnett won in an American Record 4:26:37 at 8:35/mi. The women's race started 02:44 after the rest of the field did.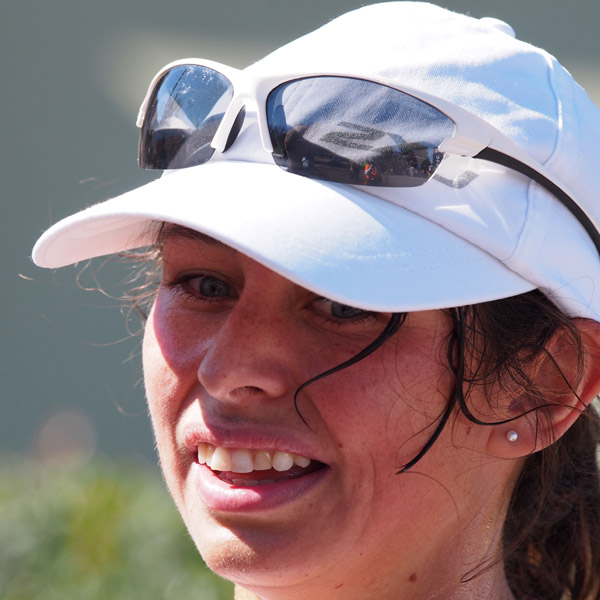 Katie looks happy and relaxed, to say the least. What an amazing performance as she set the new American Record.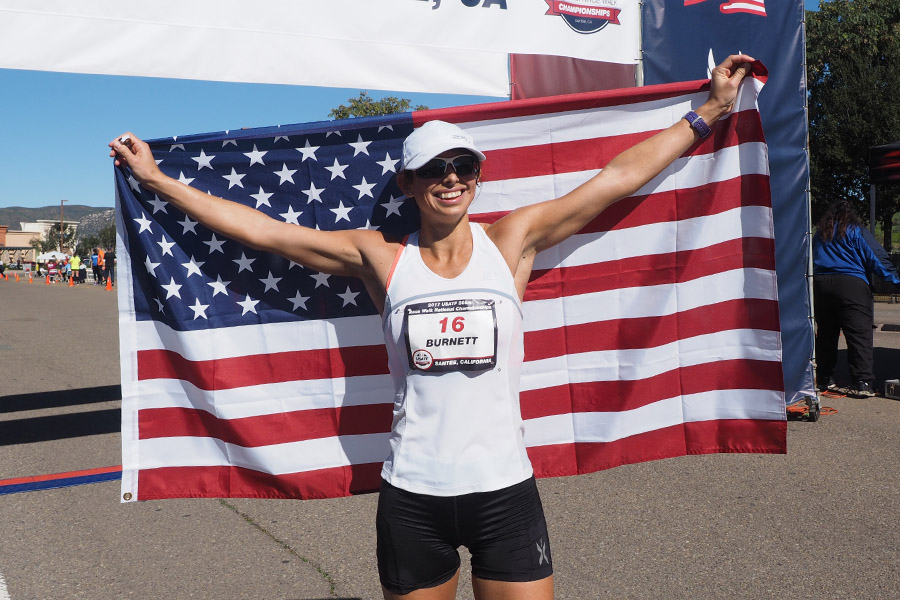 Though Katie had relatively even splits, she did slow in the last 10k.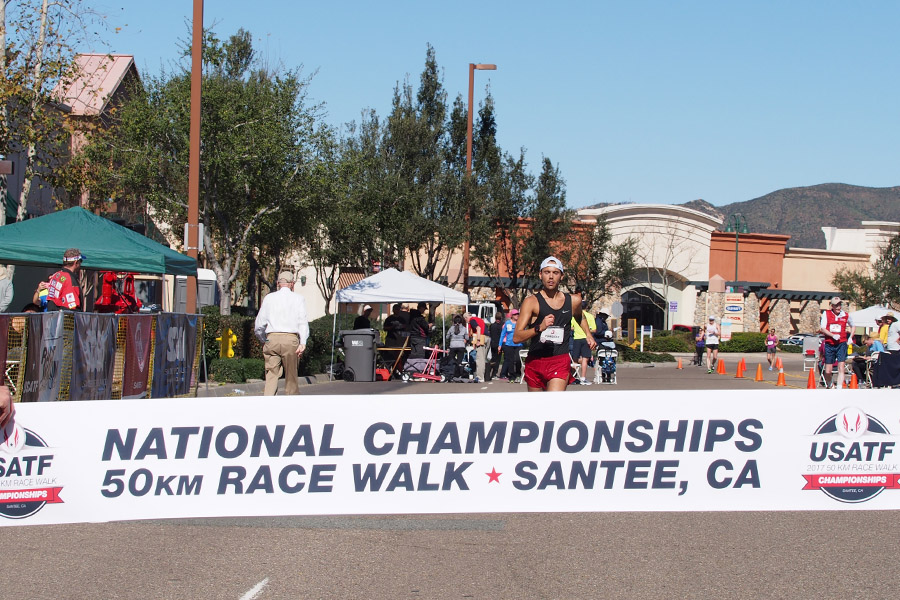 Matthew Forgues approaches finish in PB.
Matthew took 3rd in 4:31:40 at 8:45/mi.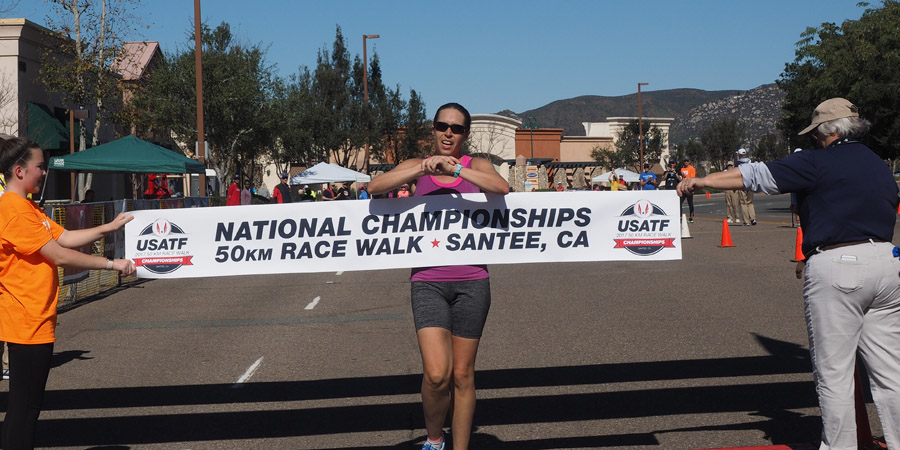 Less than 30 seconds later Erin Taylor-Talcott also set a PB while taking 2nd in 4:29:33 at 8:41/mi. She almost caught Matt despite starting 02:44 later.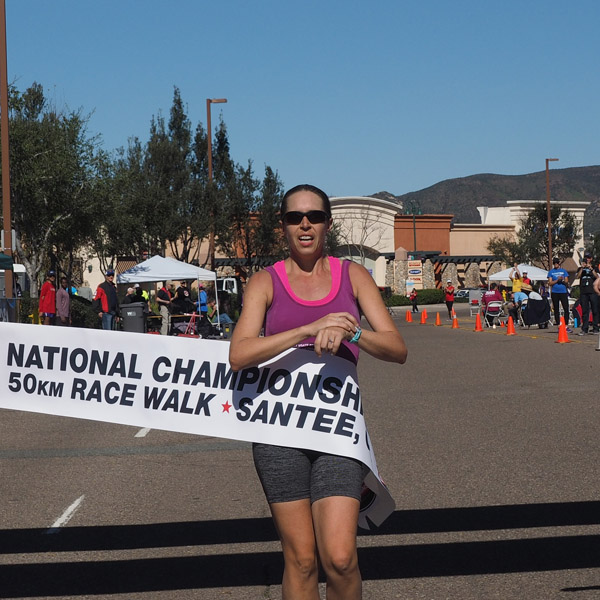 Erin has had a remarkable career and continues to achieve exceptional times on the world stage for 50k.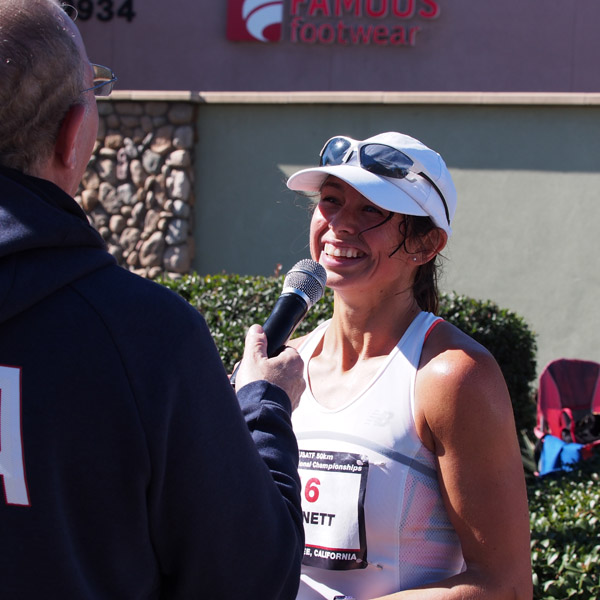 Tracy Sundlun interviews an ecstatic Katie.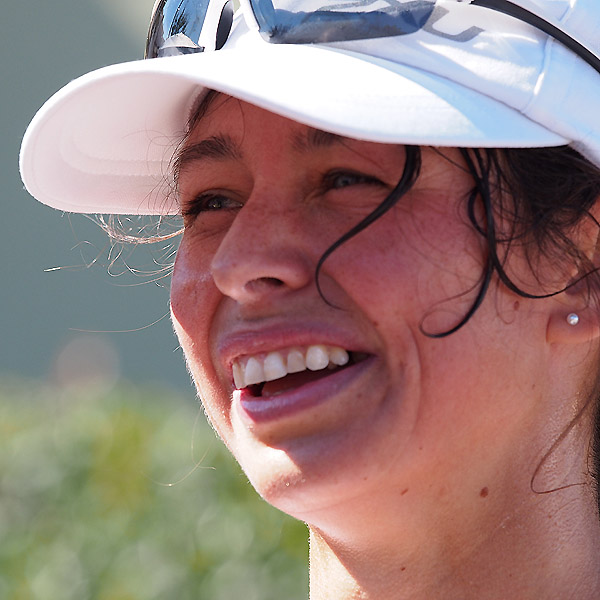 Katie has a bright future, but the only Olympic event available currently is the 20k, which is much faster.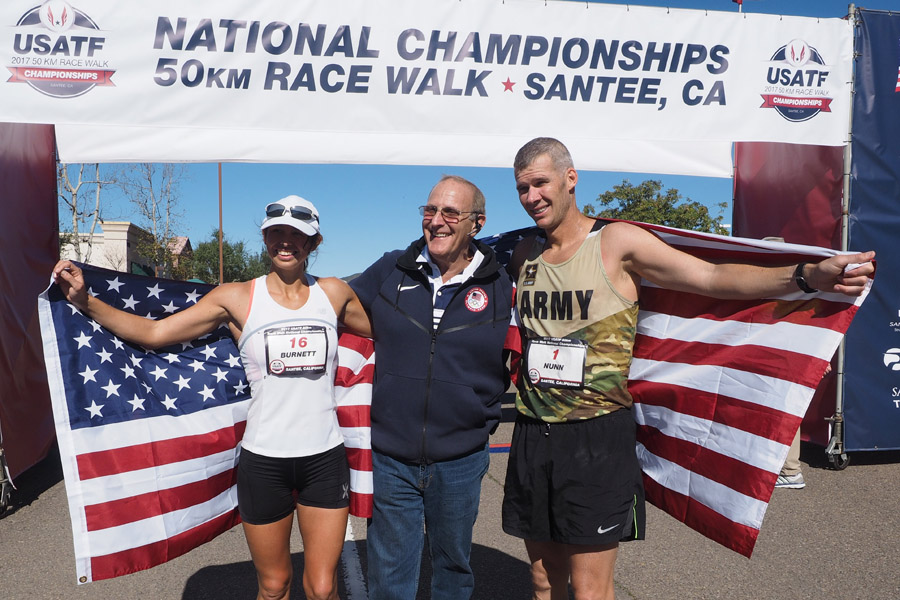 Tracy celebrates with Katie and John. What does the future hold for these winners?