Results
2017 Men's and Women's 50km USATF National Race Walk Championships 1/28/2017 "Santee, CA" Page 3 of 5
Halfway through the 50k, all other events had concluded
The sun is heating up the course as the morning wanes. Temperatures rise more than 40 degrees into the 70s. There is very little shade along the asphalt course. The 50k is unforgiving. At last year's OTT Nick Christie started to pull away from John Nunn and had nearly a two-minute lead. Alas after three and a half hours of streaming around the course, Nick floundered and faltered; he finished nearly 20 minutes after John.
Where is Nick this day? He has journeyed to Australia to that nation's sports institute to find the secret sauce, so to speak. That is, how can he train differently and do the 50k in under the seemingly elusive four hours. Keep in mind that the 50k World Record is more than 30 minutes faster than what John did at the 2016 OTT in his PB 4:03:21.
The middle part of a 50k becomes a waiting game in preparation for the finish. Some set the stage around 35k, some say 40k. Regardless, the top three men and women are pretty much determined, but the finishing order will play out.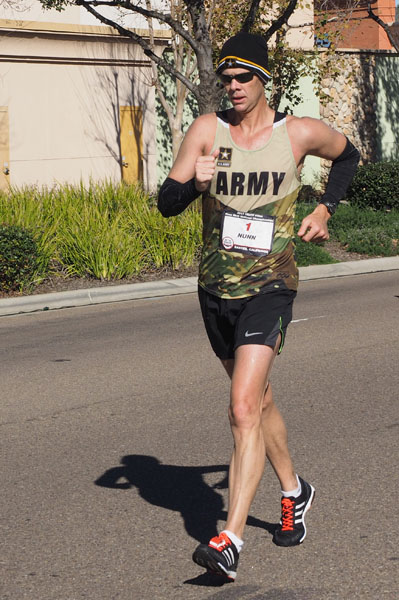 Nunn closes in on lap 24 with 16 laps to go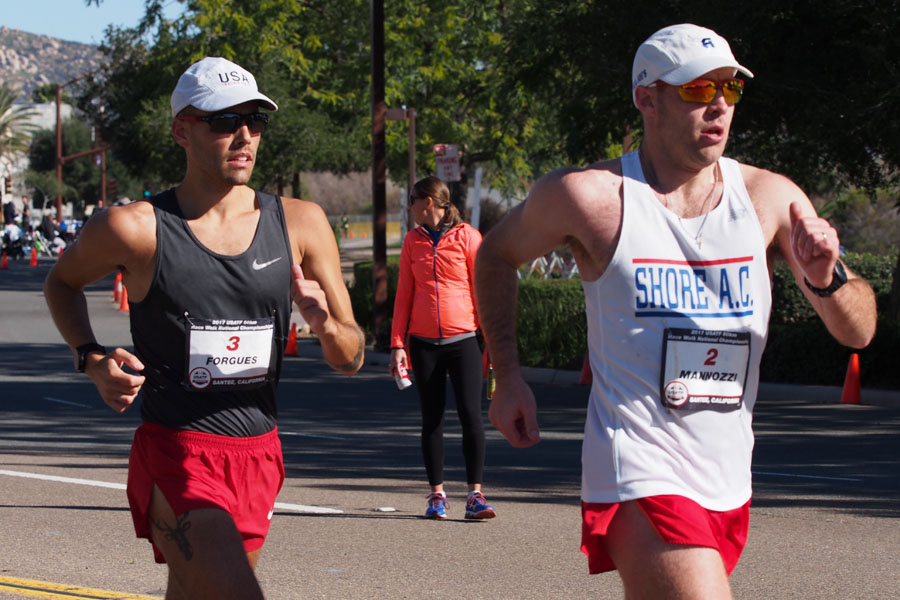 Matthew Forgues has been shadowing Michael Mannozzi all morning.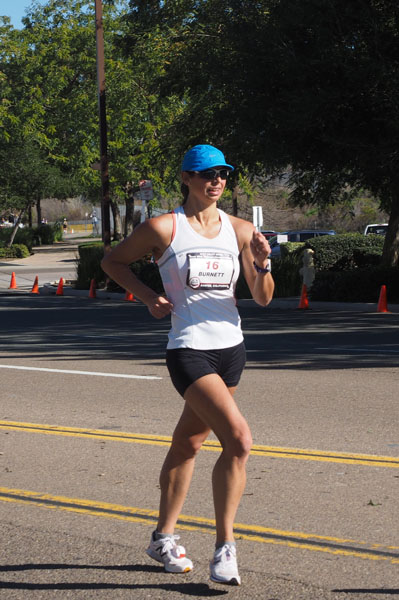 Burnett has been very consistent with her form and is on pace for a PB.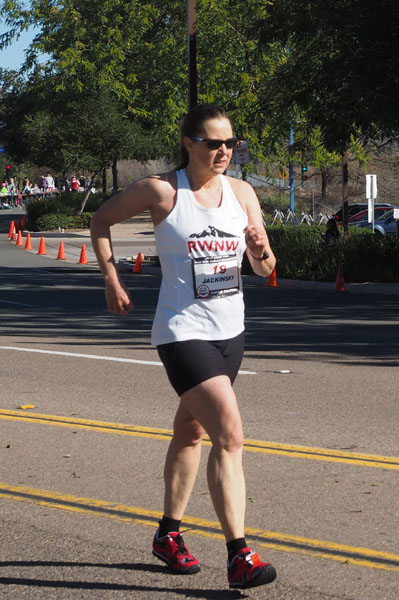 Carmen Jackinsky, a race walk coach and shoe company founder/owner, uses her newly redesigned ReShod shoes that feature a zero drop (no heel lift) and a foot-rolling midsole that a dedicated core of users report on favorably. Carmen would finish 8th in 6:47:09 at 13:07 min/mi.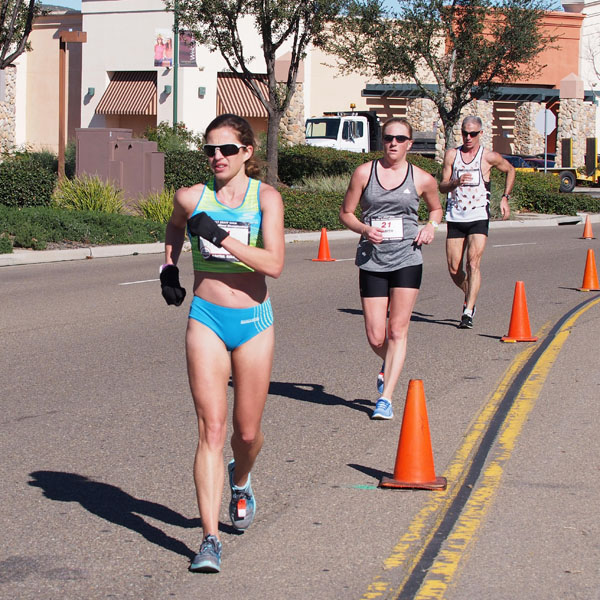 Robyn Stevens has lapped Katie Smith, while Ray Sharp with his aerated top would later DQ. Robyn would finish 6th in 5:24:27 at 10:27 min/mi.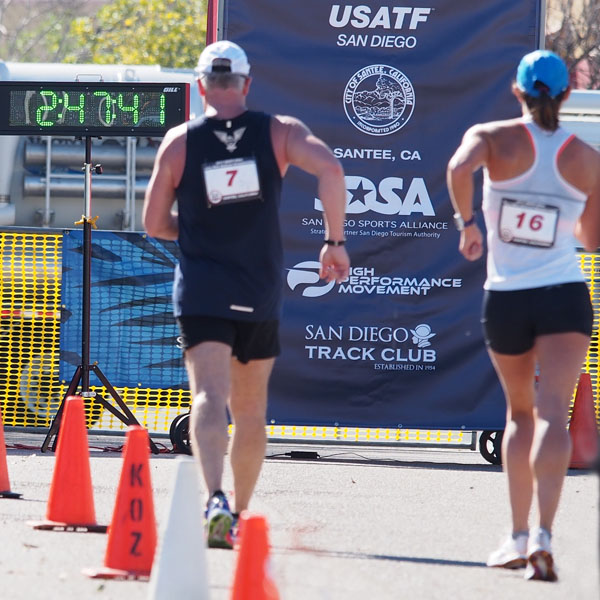 Byron Kaelin (7) approaches lap 19 and Katie Burnett (16) approaches lap 25. He would finish 12th around 2 p.m. in 6:19:18 at 12:13 min/mi. and she would finish just after noon.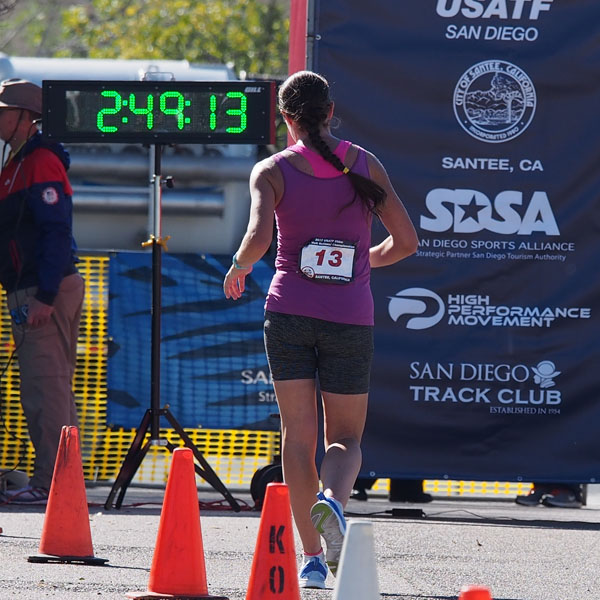 Likewise Erin Taylor-Talcott (13) approaches lap 25 about a minute and a half behind Katie and Allen James (24) called it quits shortly afterwards. Comparing the clock display times, the differential would only increase.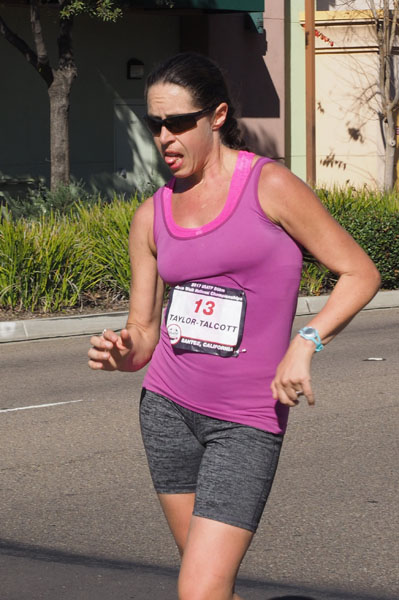 Erin has worked hard all day long and been consistent in her pacing. She is on track to a PB.