Results
2017 Men's and Women's 50km USATF National Race Walk Championships 1/28/2017 "Santee, CA" Page 2 of 5
Trying the course under race conditions is the final test
The Santee 50k course is new and a bit different than in past years. The prior course was a simple loop straight along a nearby city street, out-and-back. The new certified course is on two streets, also a forming a loop, but midway having a 90-degree left turn outbound and a 90 degree right turn inbound like an L-shape at the intersection that wraps around the NE boundary of the city's large, sprawling Trolley Square at Santee Town Center. And, yes, there is a real transportation trolley that terminates in the mall and connects with the metro transit system for access anywhere in San Diego.
Olympian John Nunn has been training well and had a recent 40k workout at 4:40/km pace. If sustained over the entire 50k distance, that time would be well under 4:00:00, his goal at this stage of his career.
Packs will naturally form. Some walking the same race, but more importantly walking the same pace. It is challenging to balance effort and nutrition (fluids, electrolytes and energy) for maximizing performance. Aid stations and support crew compliment the training each athlete undergoes.
A potential logistical nightmare could arise due to only a single double-sided race clock for the two races. The first race is the Men's 50k and all other shorter races. The second is the separately timed women's 50k. At the prior 2016 nationals separate display clocks showed the Men's in green and the Women's yellow. The implications are that a woman could finish the 50k faster than the man ahead, but physically be behind him on the course. For the cognoscenti, it's gun time vs. chip time, that's another discussion for another time.
The real race begins around 35k to 40k and is unforgiving for those who ""hit the wall."" Dramatic slowing can erase any early advantage gained during the opening half. It is unlikely for an athlete to keep an even pace an entire endurance race, such as the 50k, and quite rare to have a negative split while doing a personal best (PB). There is almost always slowing in the second half of the race, but for those who have a negative split (faster time for the second half), the results and satisfaction can be remarkable.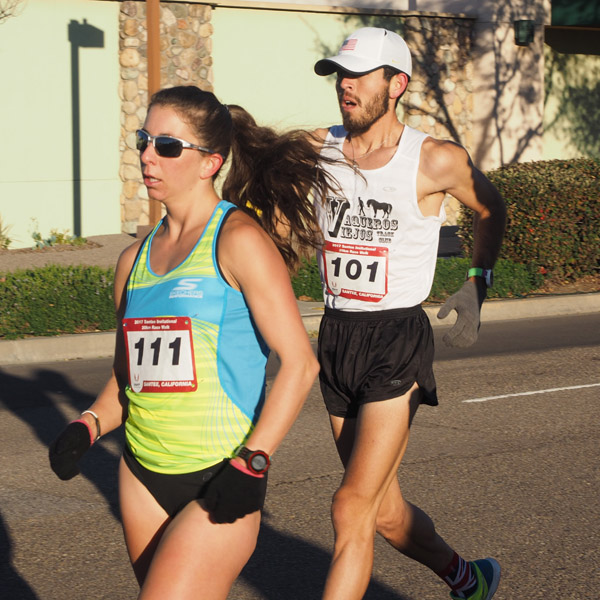 Olympian Miranda Melville (111) is paired with ""Natos"" Emanuel Corvera (101) in the 20k. He is a hopeful at this distance for the Tokyo Olympics in 2020. Today is just a workout for both.
Sayetzi Campos, 8-years-old, is in her first ever race, this at 2.5k. Tim Seaman, three-time Olympian and race walk coach supreme, gives her encouragement as she approaches the finish line.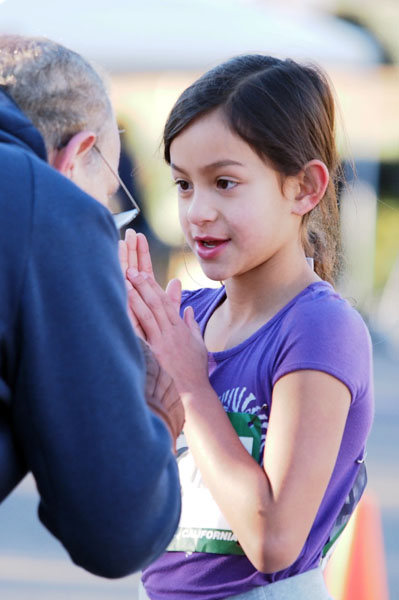 Sayetzi was the one and only entrant. First to finish today, and ahead of some really fast elite race walkers. Announcer Tracy Sundlun interviews this charming and smiling novice race walker. Quite a debut effort!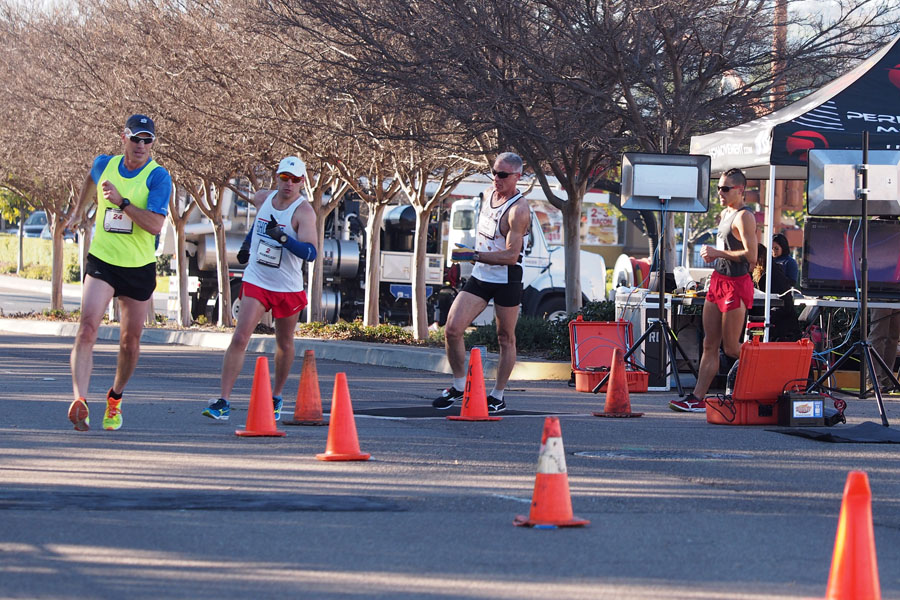 James, Mannozzi, and Sharp. Forgues, trailing, is between sensor plates (head high) for the RFID B-tag (on back of bib) that records each lap electronically.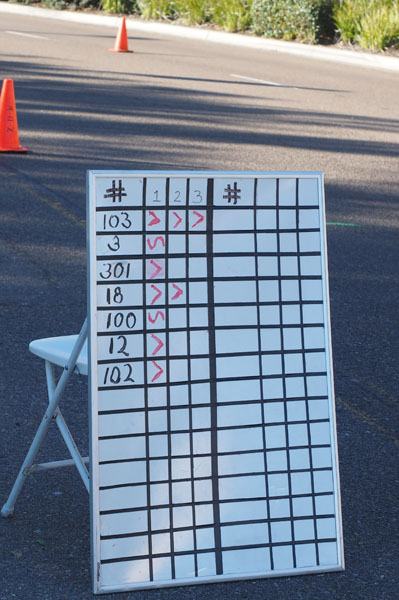 An hour into the race and there is DQ for bent knee. Single and double digit numbers are 50k athletes.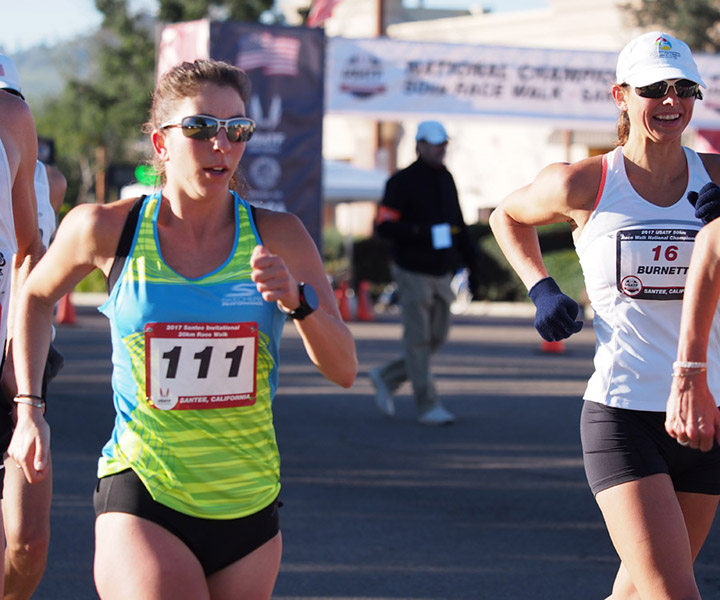 Miranda is training her 20k and going faster than Katie, who is racing the 50k. Miranda's pace, if sustained for 50k, would be sub 4:10:00.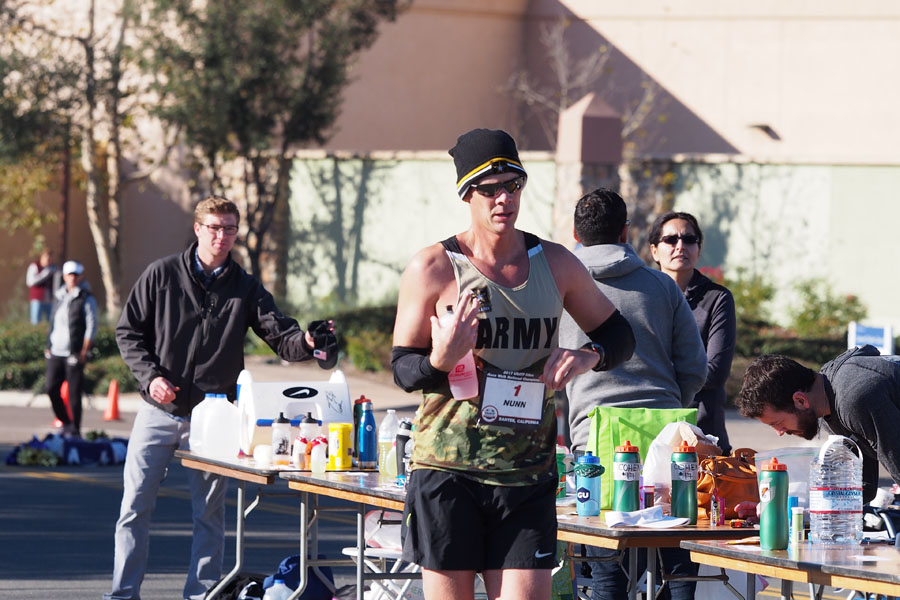 It's going to be a solo day for John Nunn. There is no American walker who can go at his hoped-for pace for 50k. Each 50k athlete has a personal aid station area, sometime shared with others, depending on space needed. John is loaded up.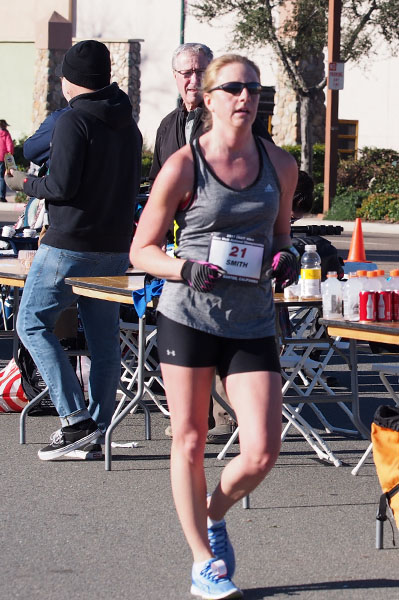 Katie Smith is holding form and would finish in 5:48:33 at 11:14 min/mi.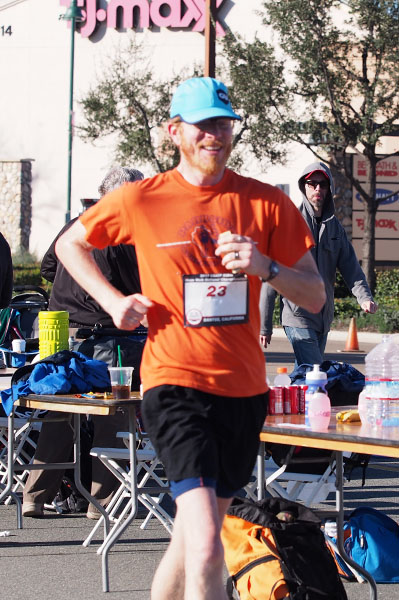 Matt DeWitt (23) is doing his debut 50k and would finish 4th in 4:57:10 at 9:34 min/mi. He has done a marathon running in 2:53.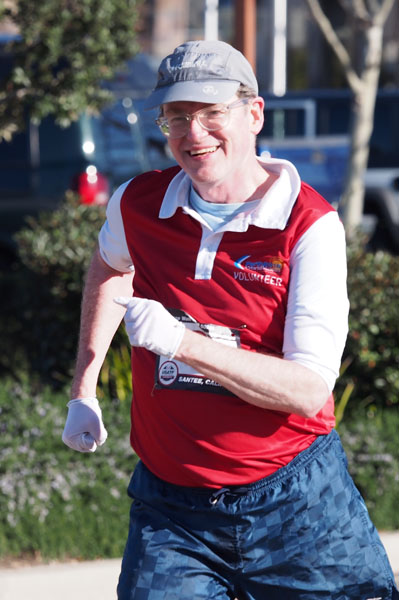 Bruce Logan (25) has a chance to redeem himself. He missed the cutoff at the 2016 Olympic Team Trials. This year the standard is 90 minutes slower at 7:30:00, rather than 6:00:00. No matter, Bruce would finish 9th in 5:58:02 at 11:32 min/mi.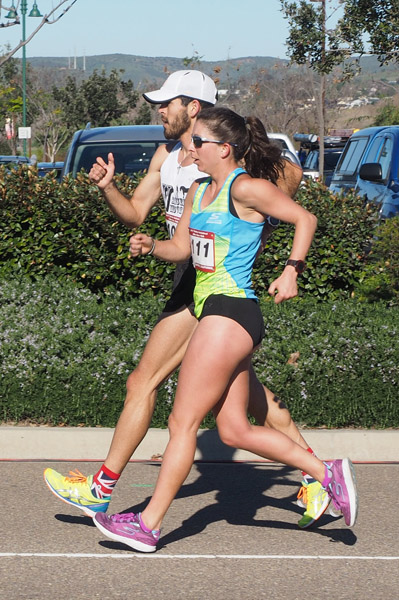 Approaching the end of their 20k, Miranda and Natos are relaxed and would finish with times of 1:38:40 and 1:38:39, respectively.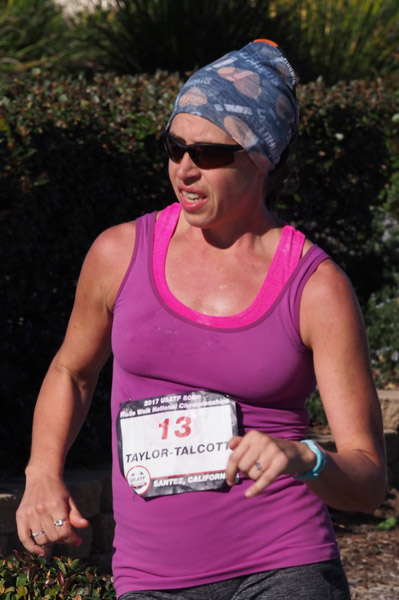 Erin Taylor-Talcott, the dominant and record-holding 50k woman, trails Burnett by less than a minute a couple of laps shy of half way.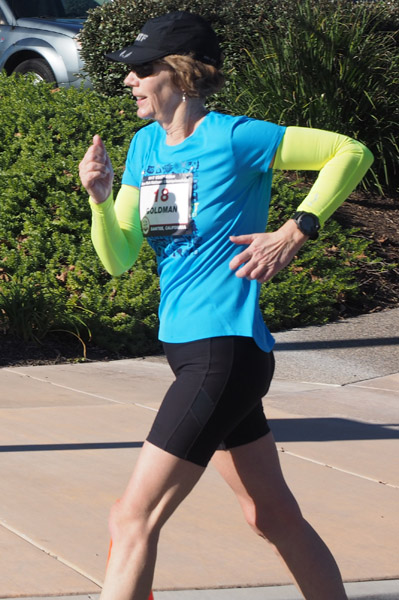 Nicole Goldman at the L-bend in the course.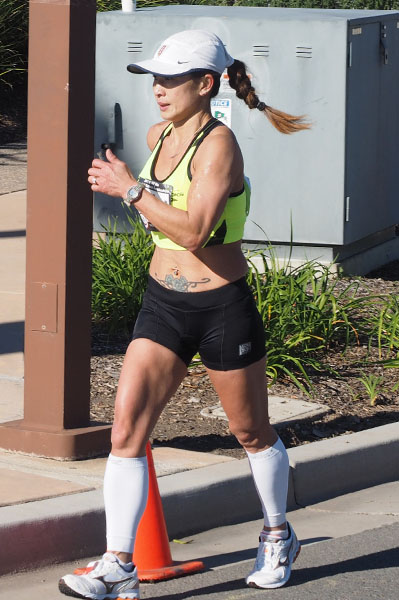 Susan Randall is celebrating Chinese New Year which began today. It is the year of the Rooster. Will she crow from the podium?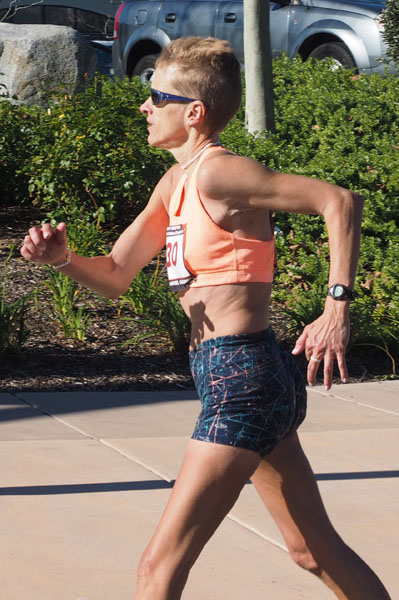 Teresa Vaill is a former American Record holder at 20k and an Olympian who is now attempting her debut 50k.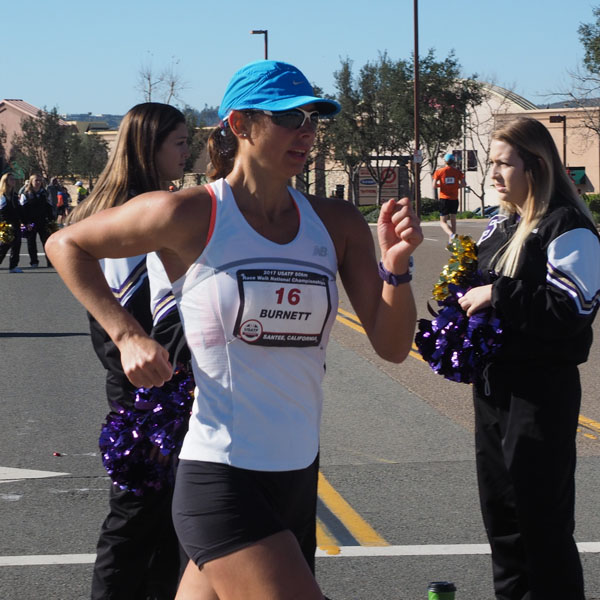 Katie Burnett continues to lead with half the race finished.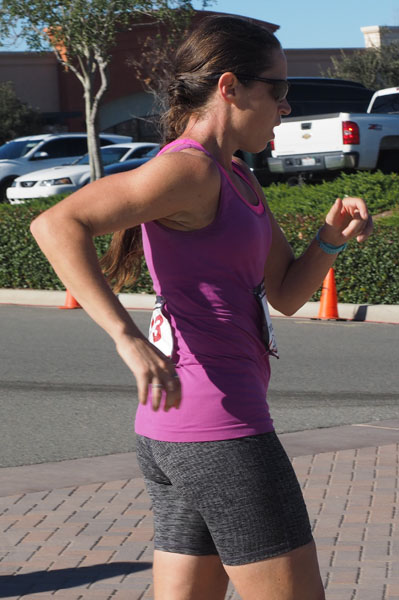 Erin Taylor-Talcott now trails by over a minute.
Robyn Stevens is doing her debut 50k and is hopeful.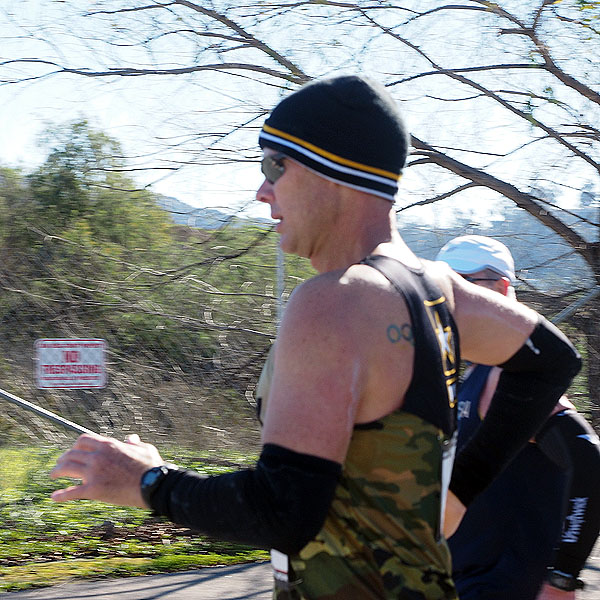 John Nunn still has Olympic dreams for 2020.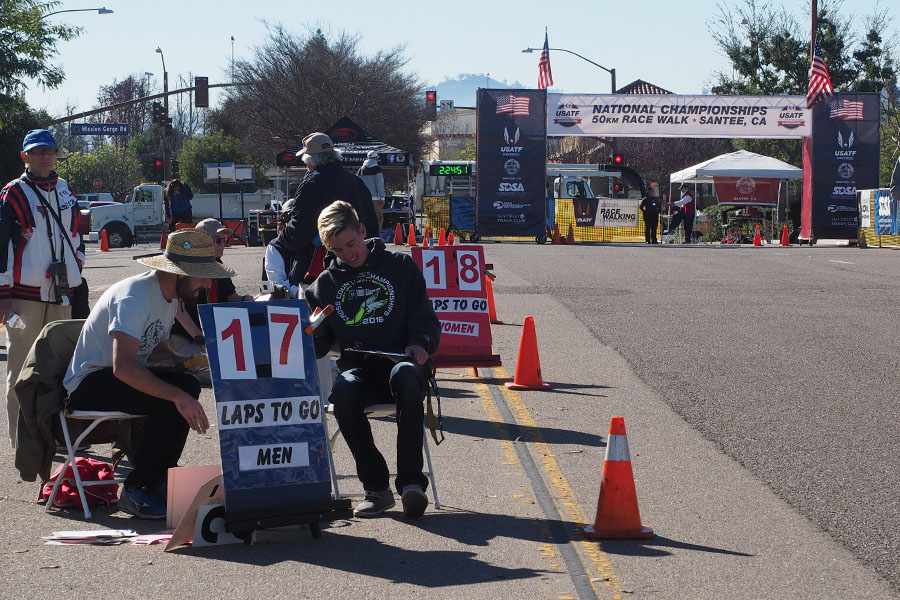 Race officials keep track of laps to go for men and women leaders. There are 40 laps on this 1.25 km course.