Results
2017 Men's and Women's 50km USATF National Race Walk Championships 1/28/2017 "Santee, CA" Page 1 of 5
Weather or not, here they come -- not that they could change their minds after many travelled cross-country to the west coast for these national championships. California weather has been making a comeback after four years of drought and during the last two editions of the 50k. Indeed, what had been heat fests of 90 degrees at the 2015 national championships and the 2016 Olympic Team Trials/women's nationals, had cold and rainy weather the prior weekend when this event had originally been scheduled.
Forecast of overnight lows in the 40s (that is cold for southern California) and possible cold Santa Ana winds from the NE set the stage for a blustery day. Surprise? early morning temps were in the mid 30s and the air was close to still, but the sun would rise by race time
There were other associated races concurrently with the men's 50k. Included, in descending length, were 20k, 10k, 5k and a youth 2.5k. This report will focus on the 50k races, but will show some of the other athletes in local championships and fun events. To be clear the women's 50k, in order to qualify as a championship and for record eligibility, had to be held as a separate race -- its start time was 02:44 after the mass start.
The city of Santee, California is just east of San Diego in southern California. It has hosted the USATF race walk 50k national championships, as well as the 2012 and 2016 Olympic Team Trials (OTT) for many years. In the case of the American ""team,"" unfortunately, it has been a team of one because of the inability of the U.S. to develop athletes who meet the Olympic Games qualifying standards, the most stringent and demanding in race walking. This event also served as a qualifier for the Pan Am cup to be staged this May and the IAAF World meet to be staged in Rome this August.

Reported by Calvin Lau
There is more equity at USATF for national championships. The total prize purse is $50,000 for today's 50k. How about that? $50k for 50k, equally divided for men and women, for 1st through 7th. Compared to the 2016 OTT, the field this year is smaller for the men, but larger for the women, and all prize money will likely be awarded.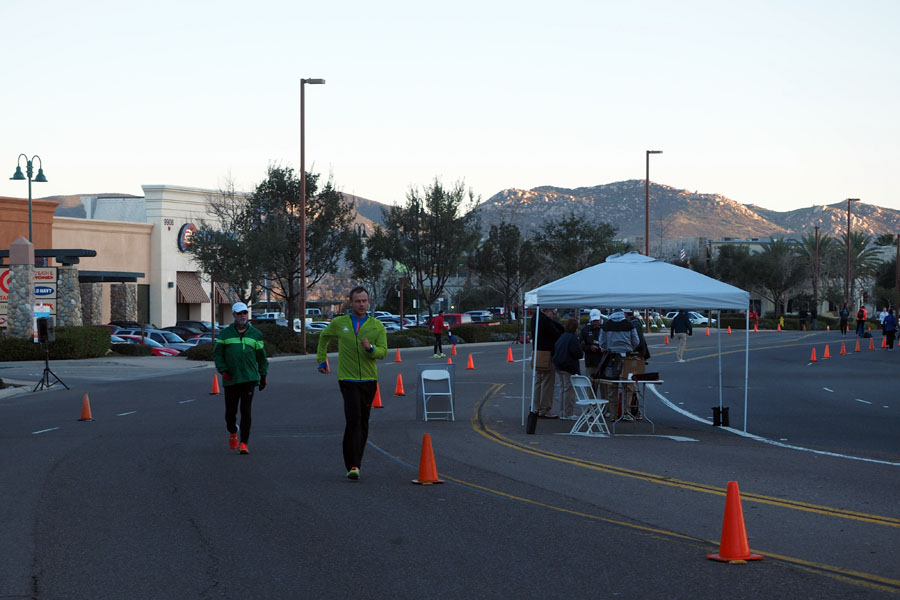 Athletes warming up about a half hour prior to start.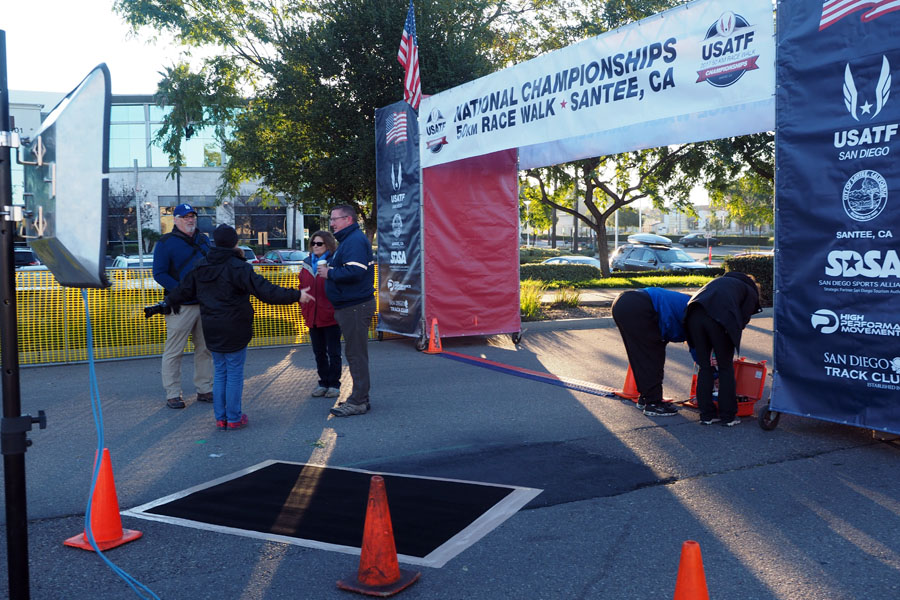 Race and timing company set up start line.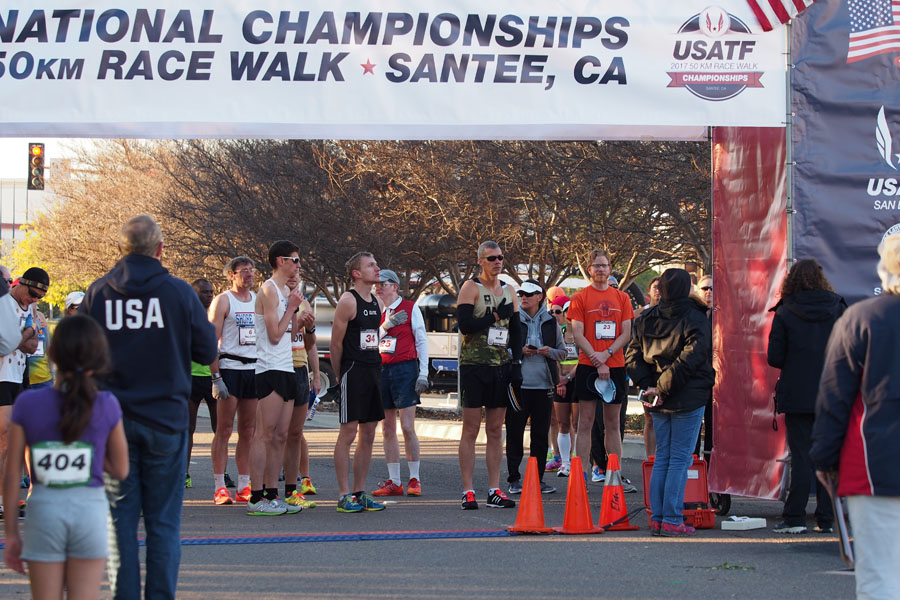 National anthem gets everyone's attention. A few wore arm warmers, but many had layers of clothing on torso.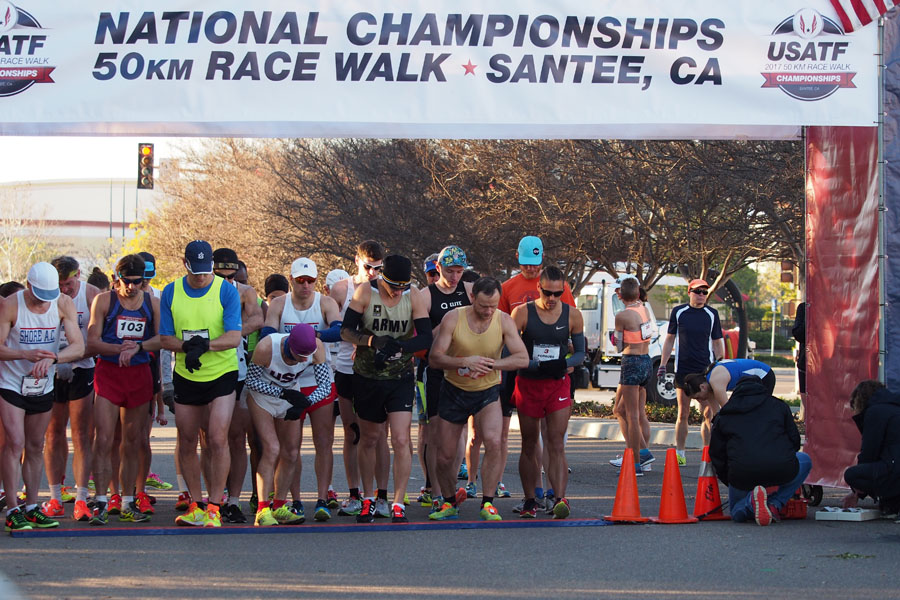 On your marků Just over a dozen men started the 50k. Would all finish, and in the allotted time of 7:30:00?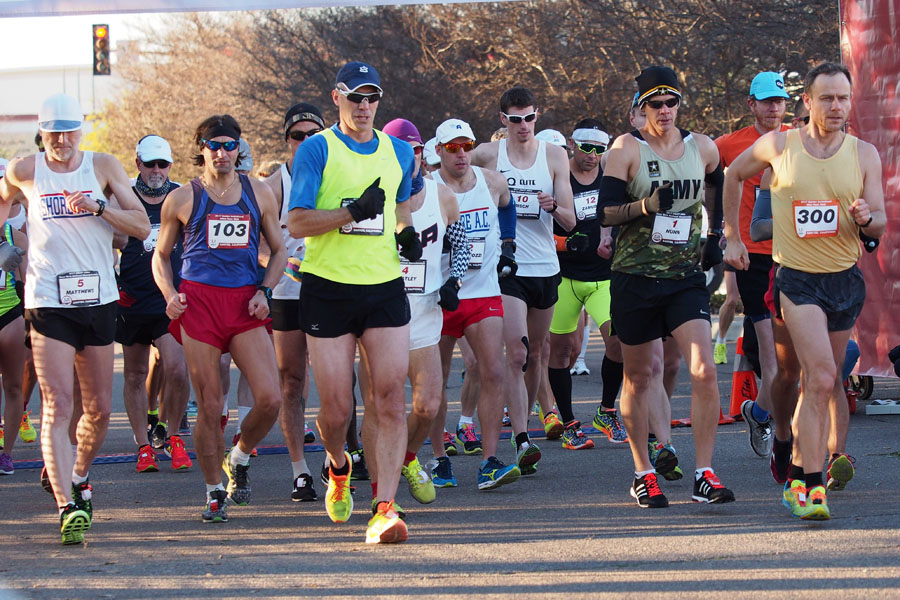 All races started except women's 50k. The multitude of other race walkers also started and followed. John Nunn (1) is the 50k favorite and aiming for a PB under 4:00:00.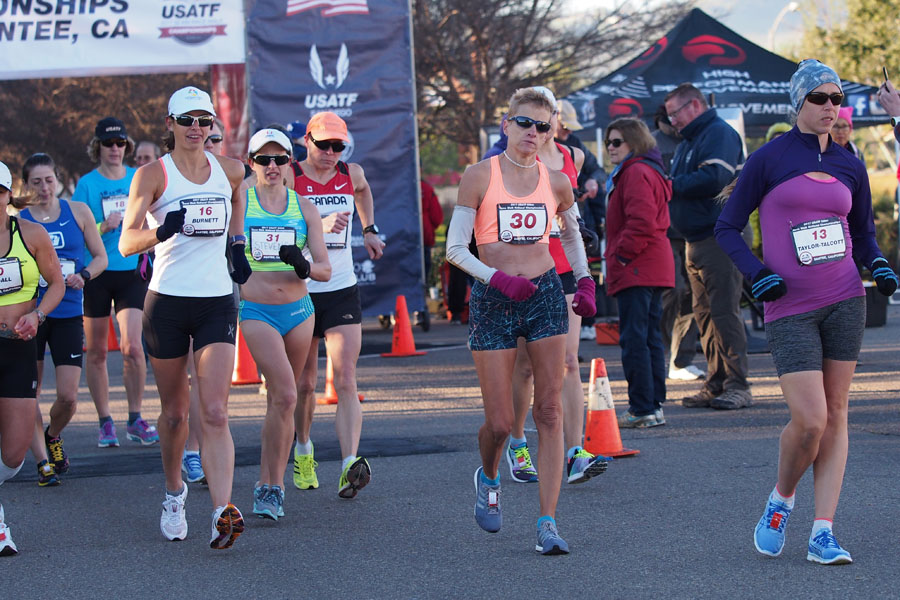 It was 02:44 (mm:ss) later the women's 50k started. Erin Taylor-Talcott (13), right to left, led the pack that included contenders Teresa Vaill (30), Robyn Stevens (31), and Katie Burnett (16).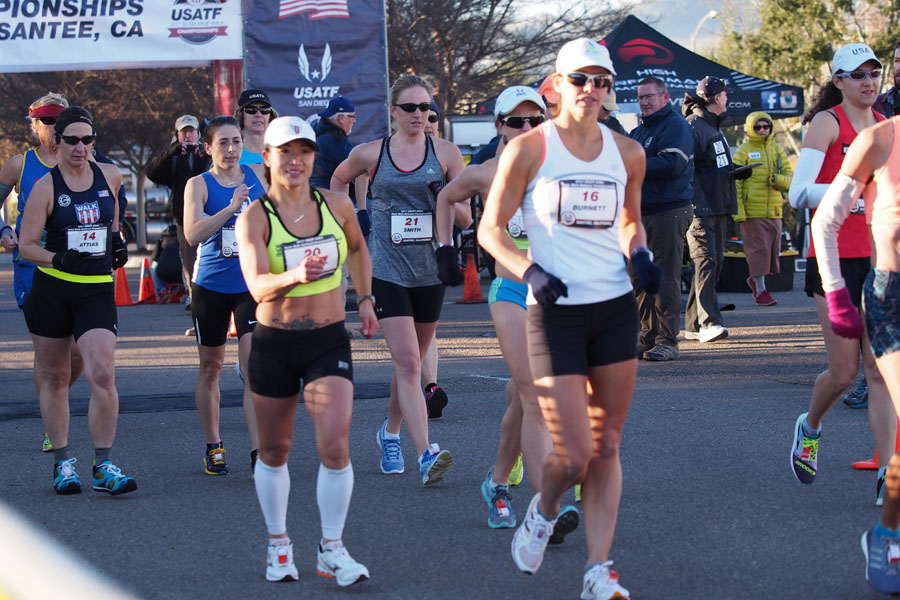 A dozen women started, including Susan Randall (20) and71-year-old Darlene Backlund (15, red cap on left).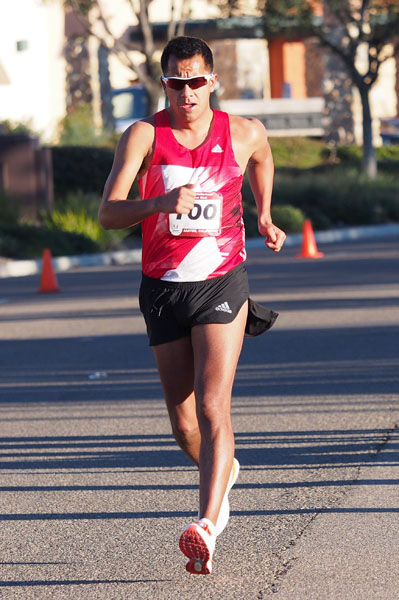 Elite race walker and twice Olympian Eder Sanchez (MEX) is doing the 20k and is far ahead of the others inbound nearing lap 1. His pace is well under 7 min/mi. He would finish in 1:25:17 at 6:52/mi. (sub-3-hour marathon pace!)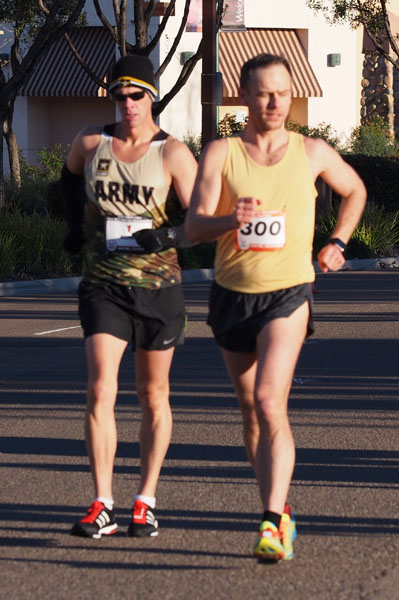 Elite and three-time Olympian John Nunn (50k), right, and Dimitry Babenko (5k) pace together. Babenko would finish in 22:37, a pace, if sustained for 50k, would be under 3:50:00.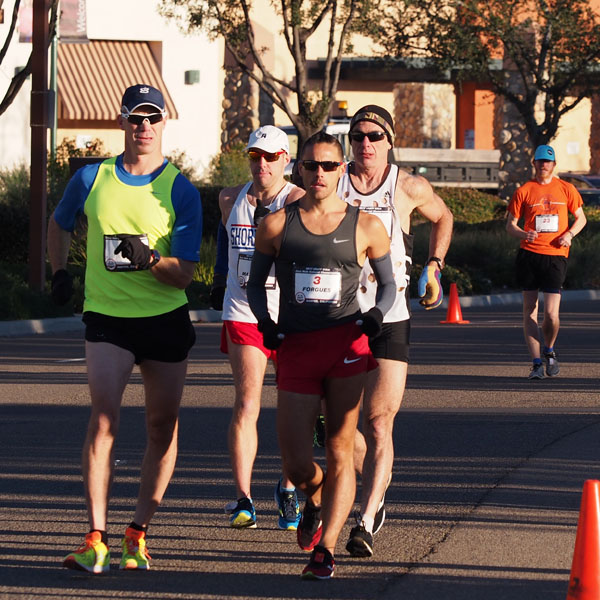 Allen James, right, Michael Mannozzi, Matthew Forgues and Ray Sharp follow.