Results
2016 Women's 20km Race Walk Olympics 8/12/2016 "Rio Dejaneiro, Brazil" Page 1 of 10
The woman's 20km was the last race walk at the Rio Olympics, but not one to be missed. Sadly, held in the heat of the day, 2:30 PM and on the shorter 1km race course. For the life of me, I have no idea why with the 50km course already set at 2km they would revert back to the shorter course. The turns were bad enough as is, why make the women traverse them twice as often? In addition to the world class field, as a reporter/photographer from the USA I was pleased to have to very strong walkers from the USA to cover in Maria Michta-Coffey and Miranda Melville.
5km - 20km is up, just working on the first few photos now.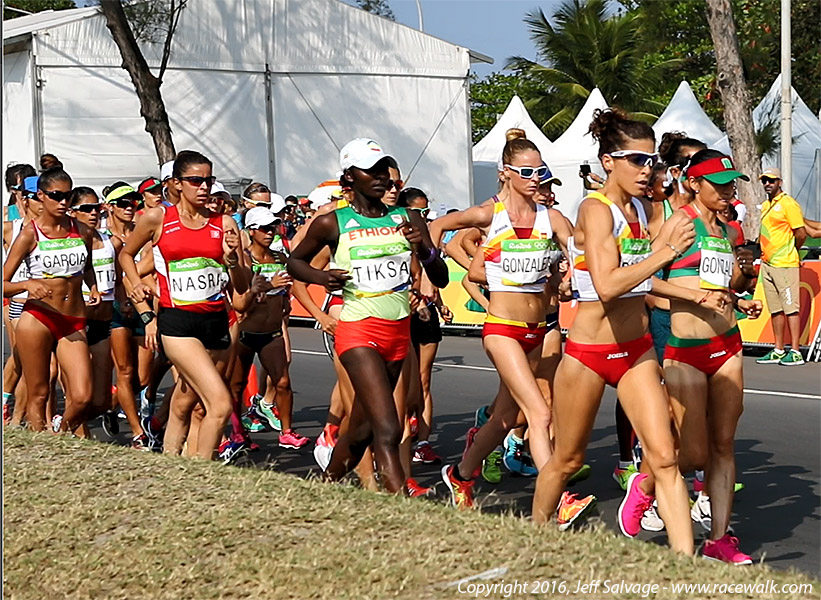 Given the course and heat, no one was making an early move.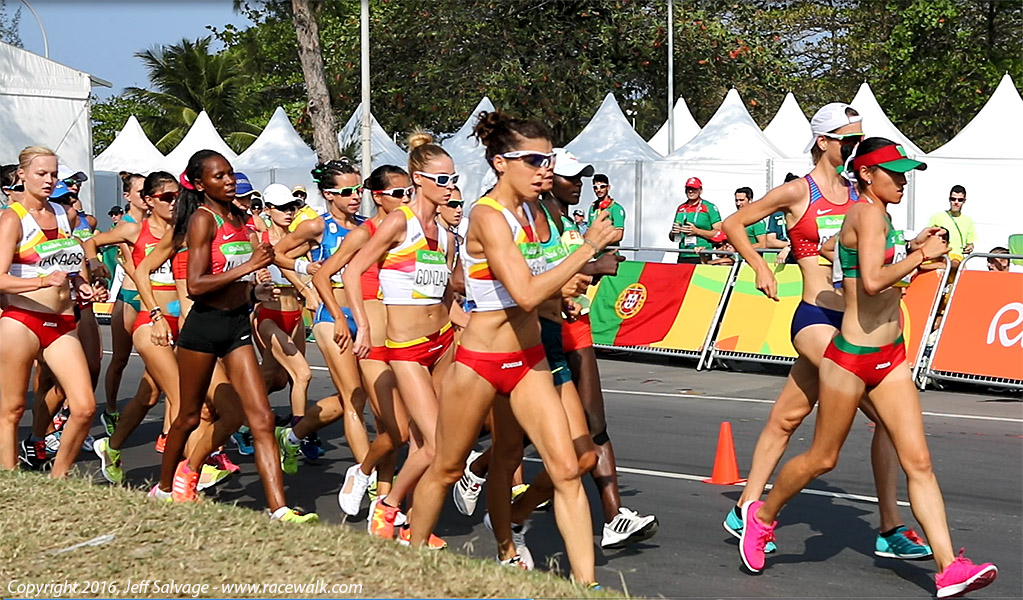 It was a sea of incredibly talented walkers. A sight to be seen!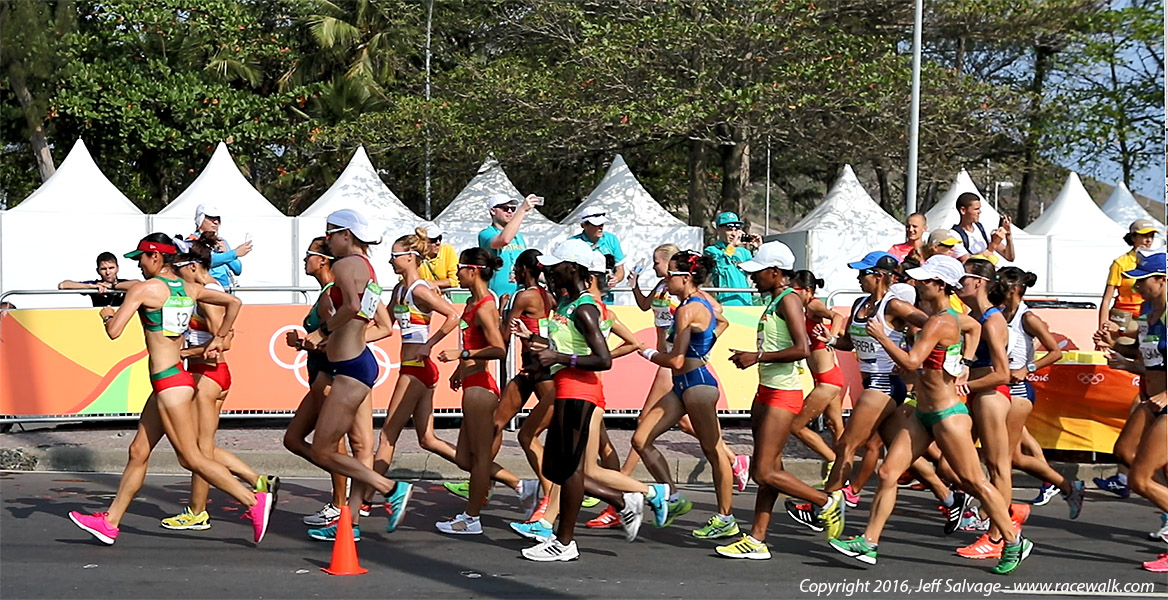 With almost 2 laps complete, there was no real breakup of the pack.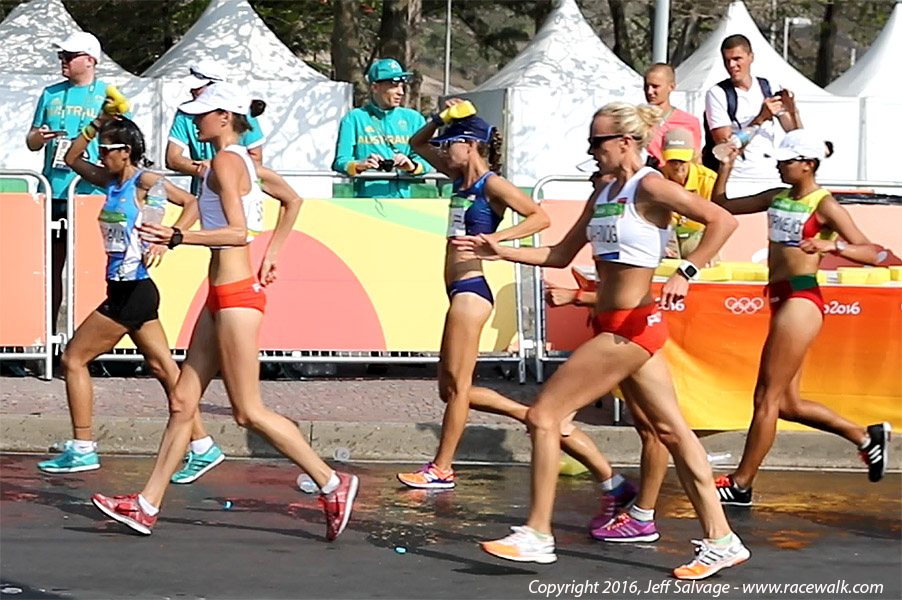 Maria Michta-Coffey playing it smart.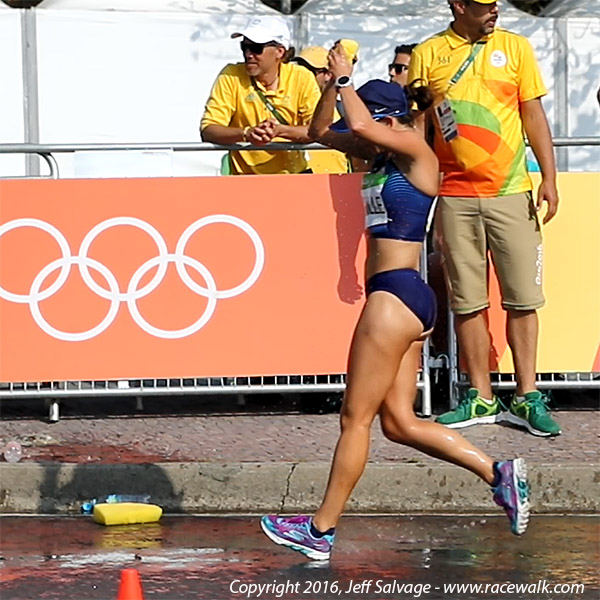 Miranda Melville trying to cool off early.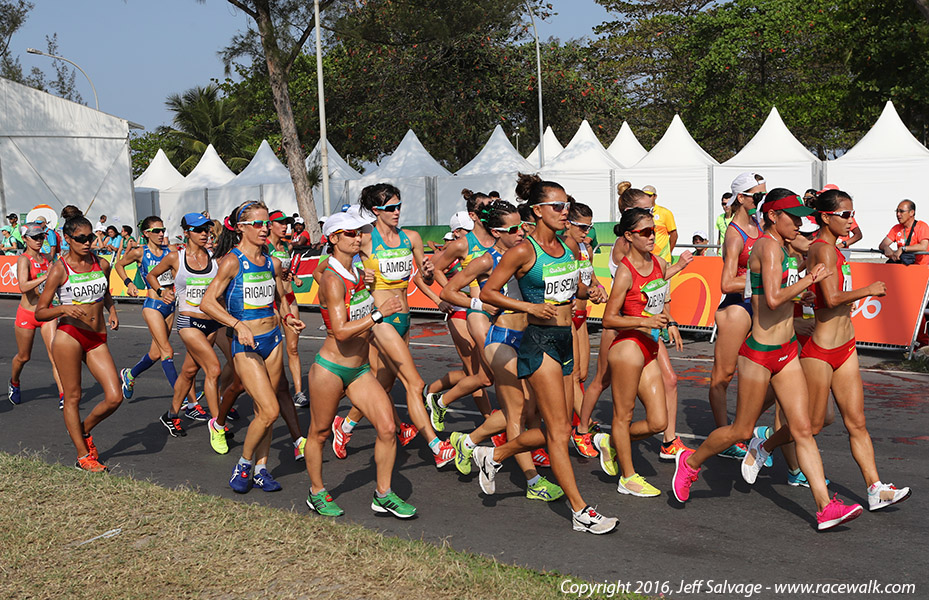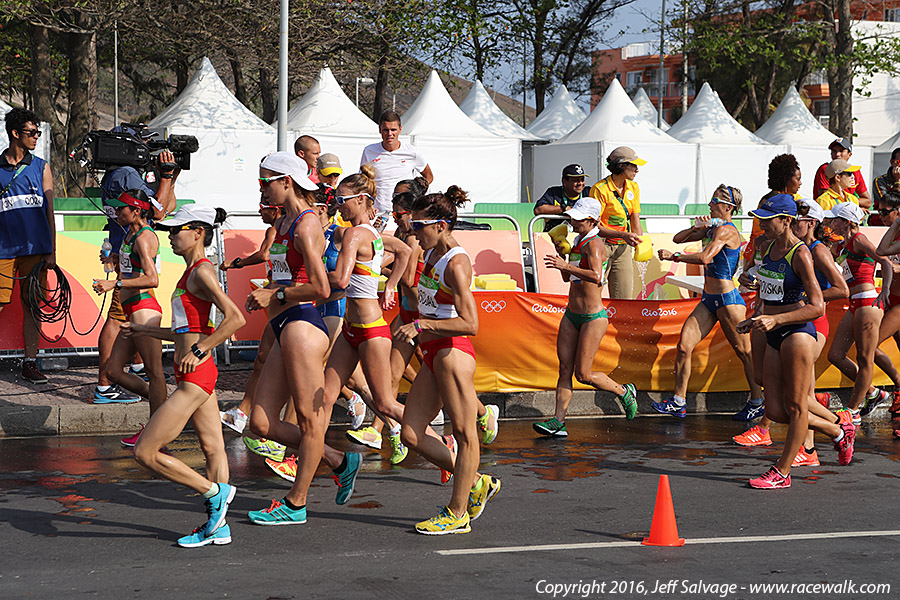 The lead pack cruising by the water table.
Just past 6km (27:26 split) the lead pack dwindled down to 21 people.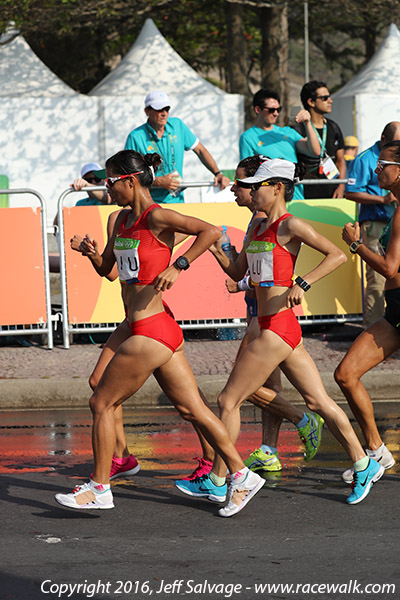 With another lap down (8km in 36:25), the lead pack only lost two people. Yes the war had begun, but it was boiling up slowly.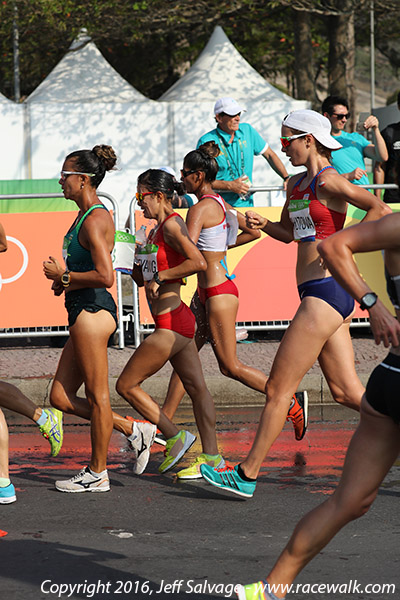 More of the lead pack as they approach 8km.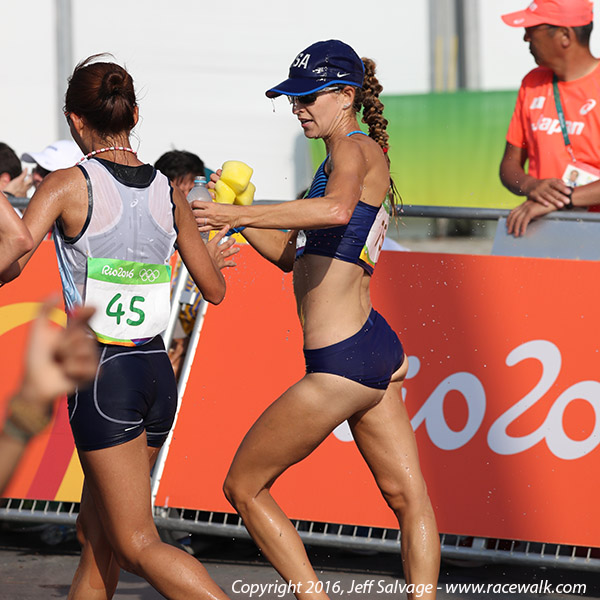 Great sportsmanship from Michta-Coffey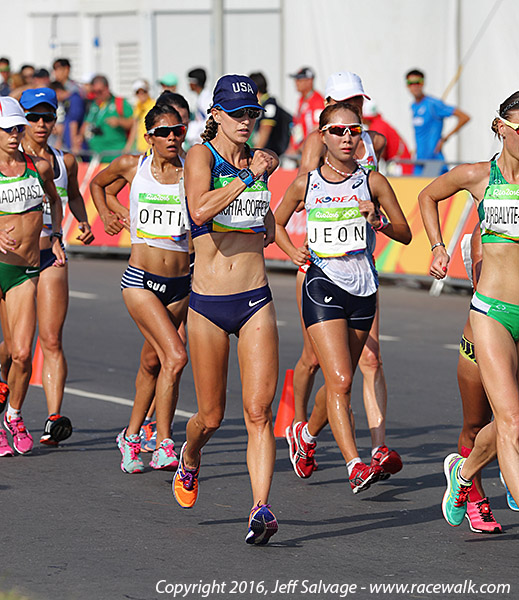 Michta-Coffey was moving up through the ranks. At 2km she was in 48th, but by 6km she advanced to 31st.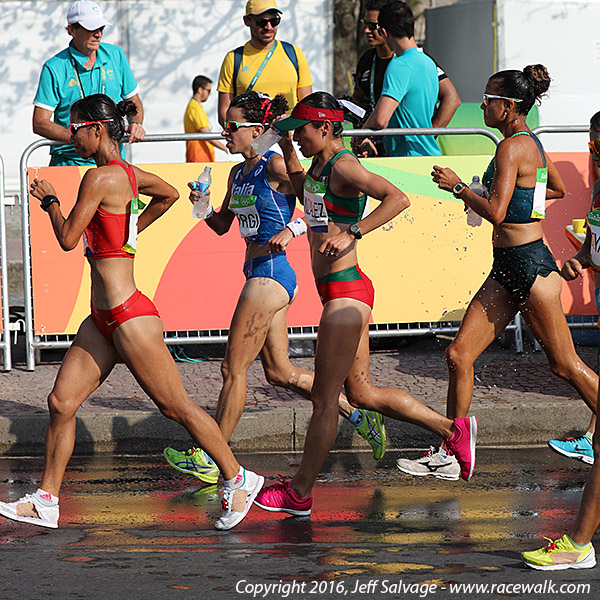 The late day start definitiely made it more challenging as the heat combined with the saturating humidity took its toll.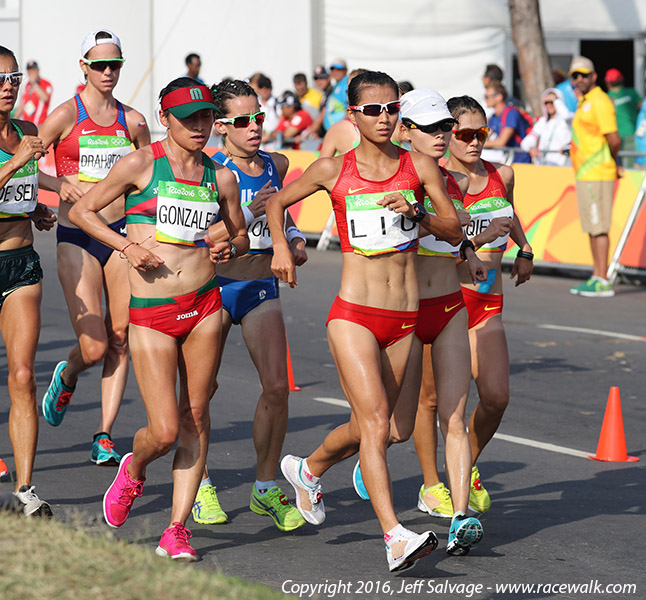 As the lead pack approached 10km (45:24) Lui lead the 15 remaining in the pack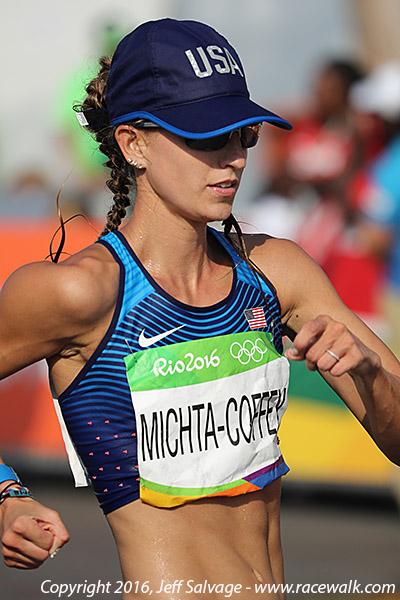 Michta-Coffey looking strong, following the advice of Coach Tim Seaman, start conservatively and pick off as many as you can.