Results
2016 Men's 50km U.S. Olympic Team Trials Race Walk 2/21/2016--The Road to Rio "Santee, CA" Page 6 of 6
OTT Continues Until 5:51:00 Clock Time.
There were two other events occuring on this course, one ongoing (Women's 50K National Championship) and the other has already finished (open and invitational 20K). Those will be covered in a separate photo story.
Thus far three men have finished. Only one, John Nunn, has met the OG standard, leaving Nick Christie and Michael Mannozzi to ponder if they will attempt one more time to qualify with a time of 4:06:00 or better prior to the May 8 deadline. Potentially, Christie might contemplate one final effort in an international race in Rome in less than three months. That has yet to be decided. Even more realistically would the possiblilty of making Team USA for the 20K in Salem, Oregon on June 30, 2016 at the 2016 U.S. Olympic Team Trials.
The field of 15 men stayed intact for each athlete through Lap 26 or 32.5 km, though at widely varying times of 2:36:22 by the lead two (Nunn and Christie) to 3:56 by the last participant. There were three DQs, all for bent knee, all coincidentally before reaching Lap 27 or 33.75 km. There is no magic with this distance, but planning, training, endurance, replenishment and weather all combine to derail the best of intentions.
Keep in mind that of the 15 entrants there just nine who QUALIFIED by meeting the OTT standard of under 6:00:00 in a specific date frame. The six who were ACCEPTED either had a history of having a good performance prior to the specific date frame or showed youthful promise. In any case USATF wanted a starting field of 15, so had to be creative and flexible to fill the six spots with entrants who had a chance to finish in under 6:00:00, but could not begin a new lap if the clock has ticked past 5:51:00.
Now that the top three places were recounted on the previous page, here is how the race progressed for the nine still on course.
Here is a brief retrospective to show how pacing pairs or solo efforts have unfolded while the top three were finishing.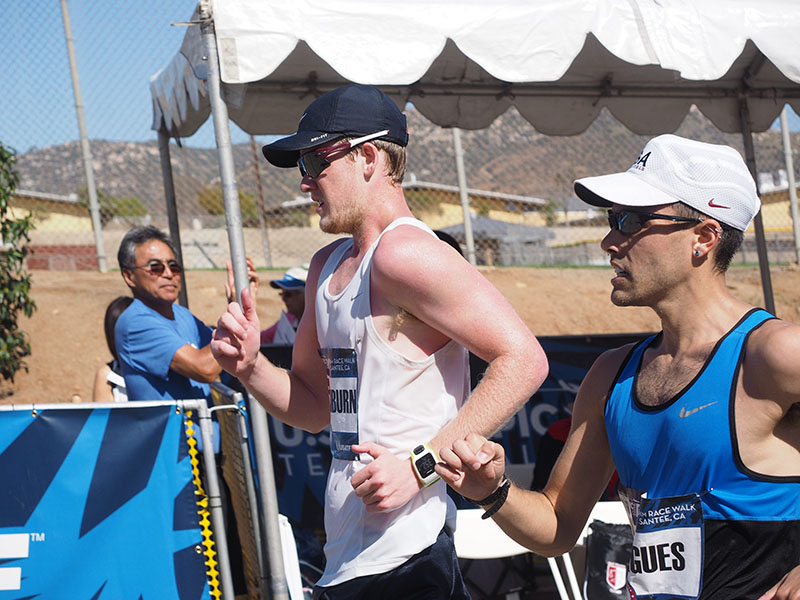 Washburn and Forgues, two of the youngest in the field, were surprsingly holding their own and continuing to work together as they had done the entire race to this point.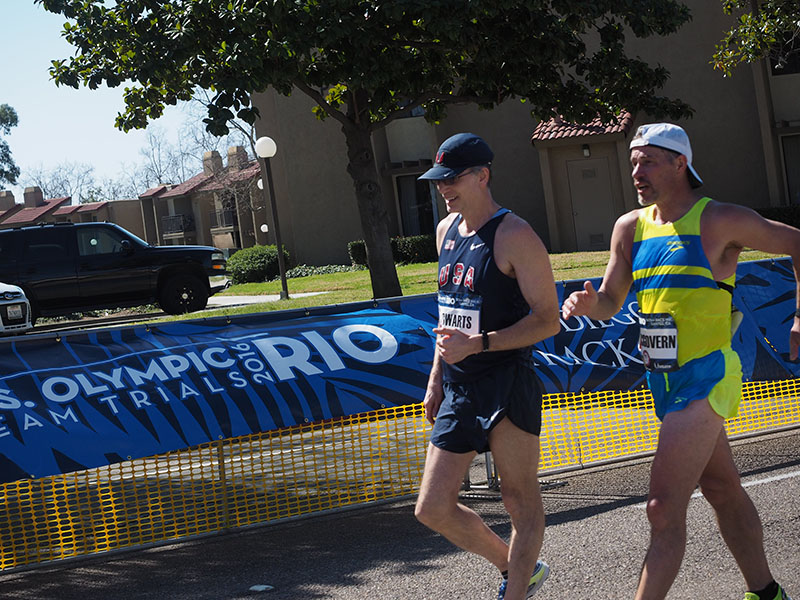 Swarts and McGovern, though on different laps, formed an alliance of sorts.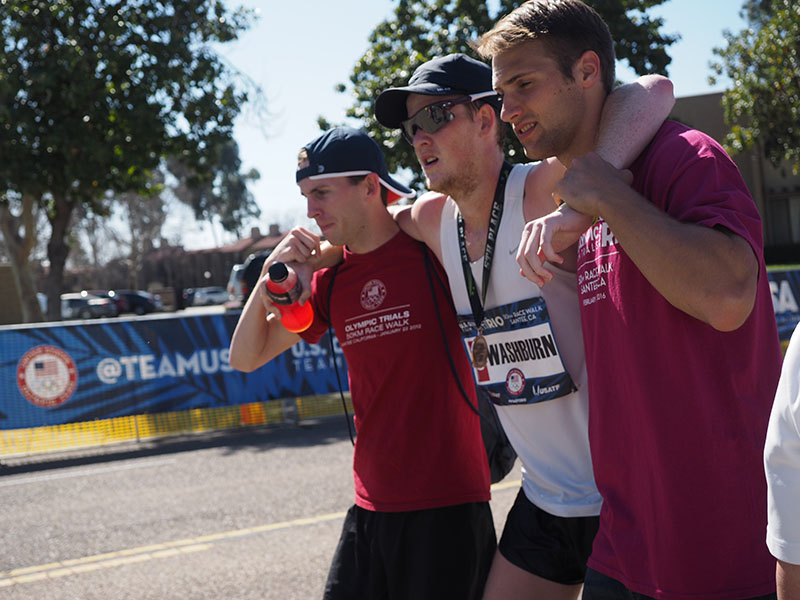 Steven Washburn had a tough last 5 km. Ahead of him Matthew Forgues finished fourth in 4:33:35 at 8:50 min/mile, an amazing half hour plus improvement over his 5:04:23 in the November 2015 nationals.. Washburn finished fifth in 4:40:42 at 9:03 min/mile, which is a remarkable time for a debut effort. Both of these young men have an endurance future in U.S. race walking.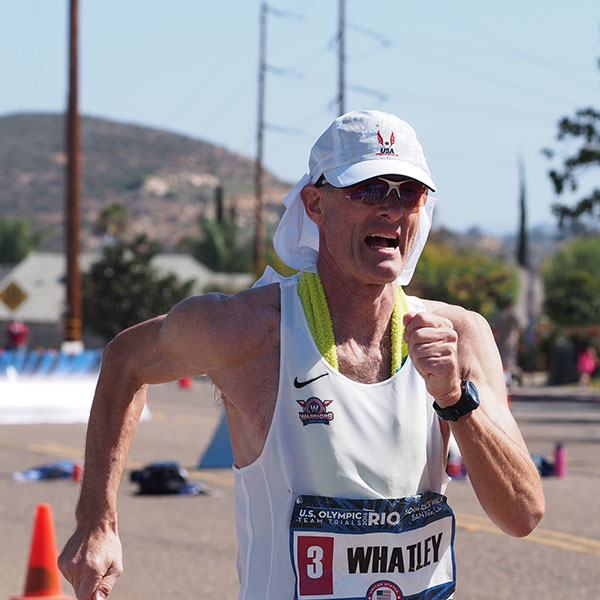 At noon Ian Whatley, maintaining form, is thinking more about finishing than having lunch. He finished sixth in 4:53:06 at 9:27 min/mile.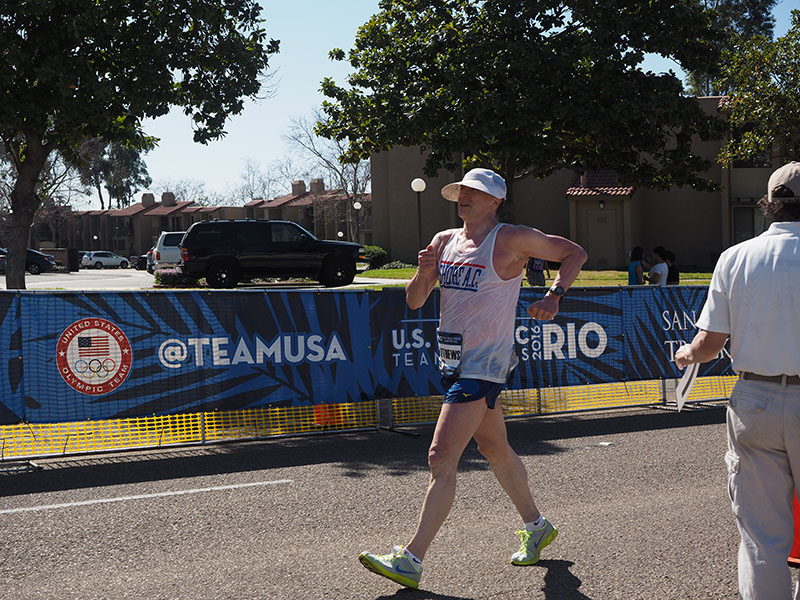 Jonathan Matthews maintained pace in the 9 min/mile range, but after 40 km he slowed to 10 min/mile. He finished seventh, snagging the last prize money, in 5:05:25 at 9:46 min/mile. Quite a redemption 50K for the oldest guy in the field!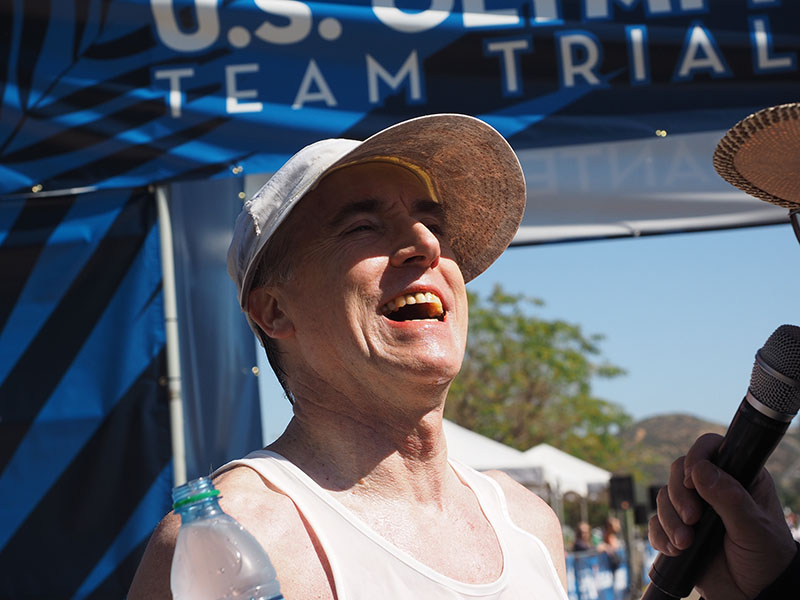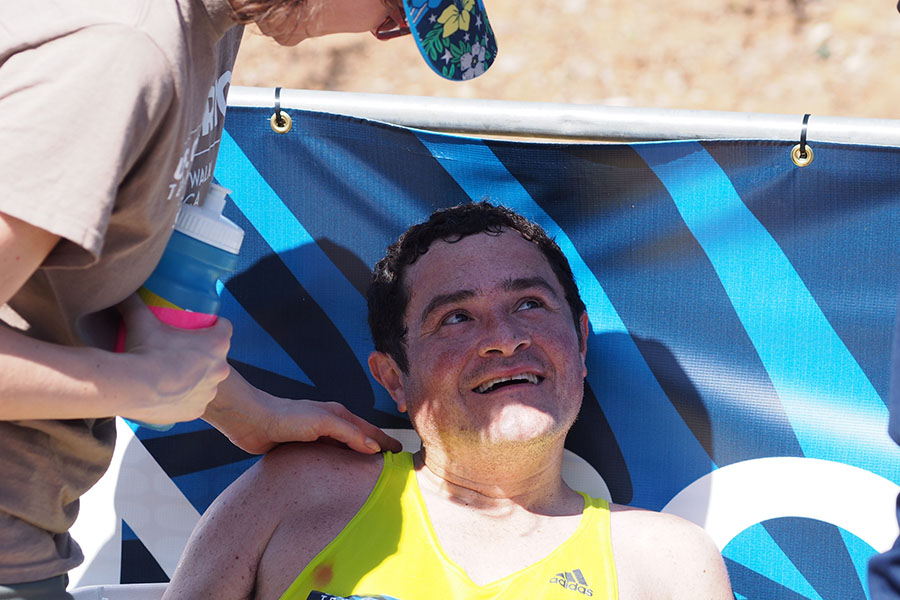 Pablo Gomez is happily recumbant after finishing eigth in 5:05:14 at 9:50 min/mile.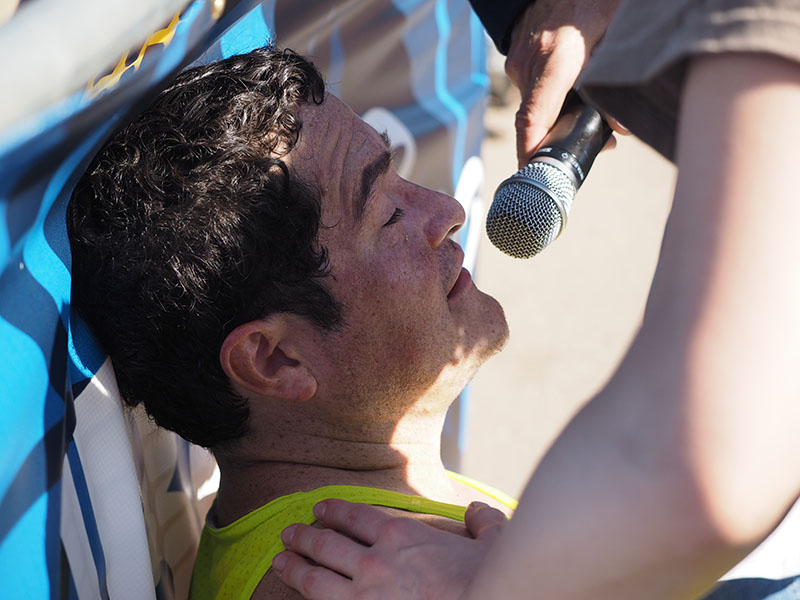 Gomez had a PB that improved on his 5:22:57 in the 2015 nationals.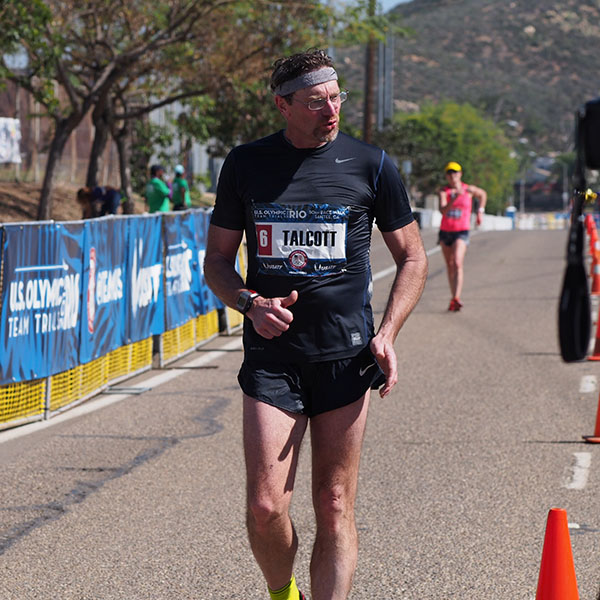 Dave Talcott would finish ninth in 5:21:28 at 10:21 min/mile.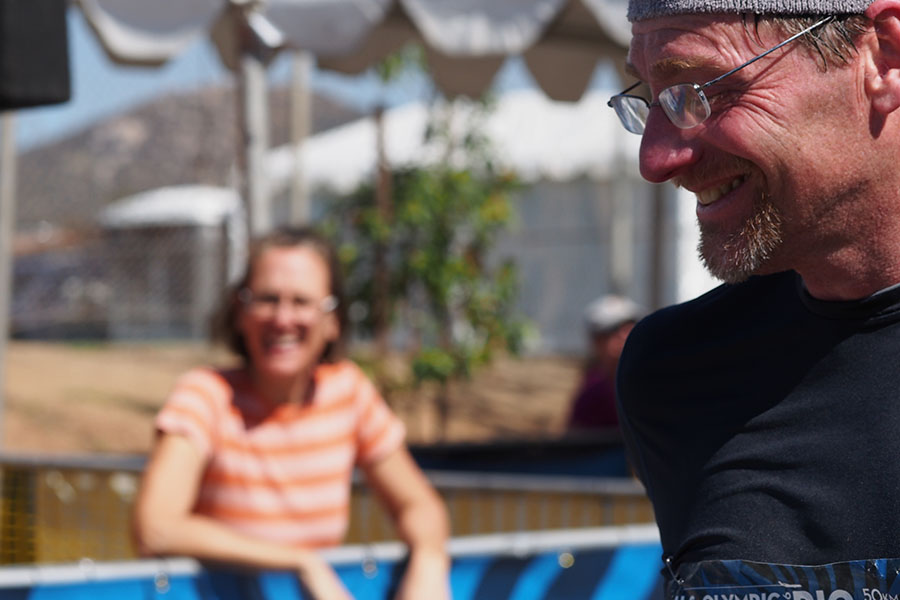 Maybe he is smiling because he had a TEAM TALCOTT t-shirt that was repurposed for Erin's beneift.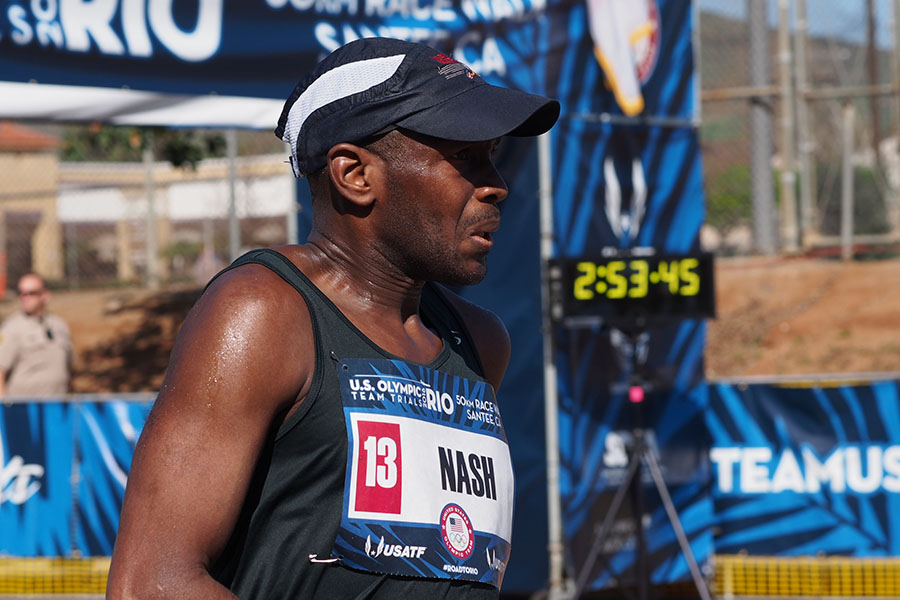 Omar Nash, close to the three hour mark, started at 9+ min/mile, then 10 and 11+ before finishing tenth in 5:23:50 at10:26 min/mile.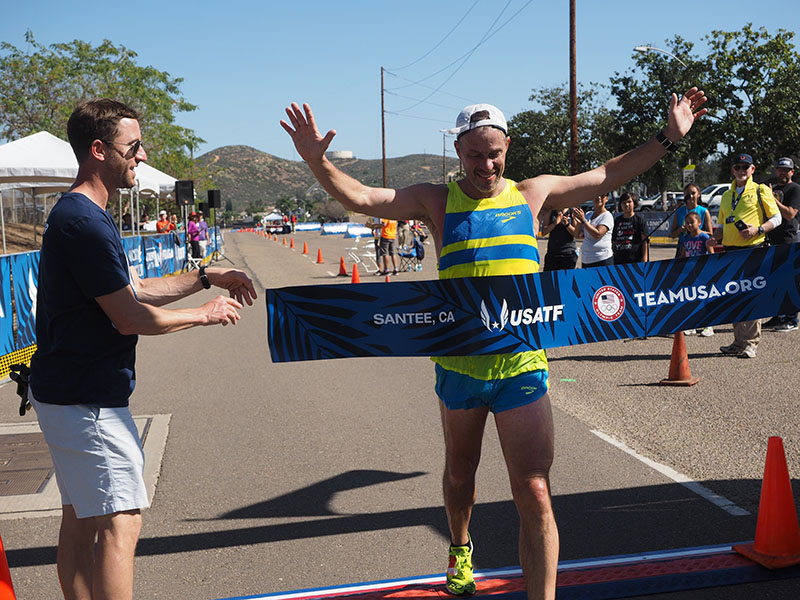 Dave McGovern happily finishes tenth in 5:31:25 at 10:41 min/mile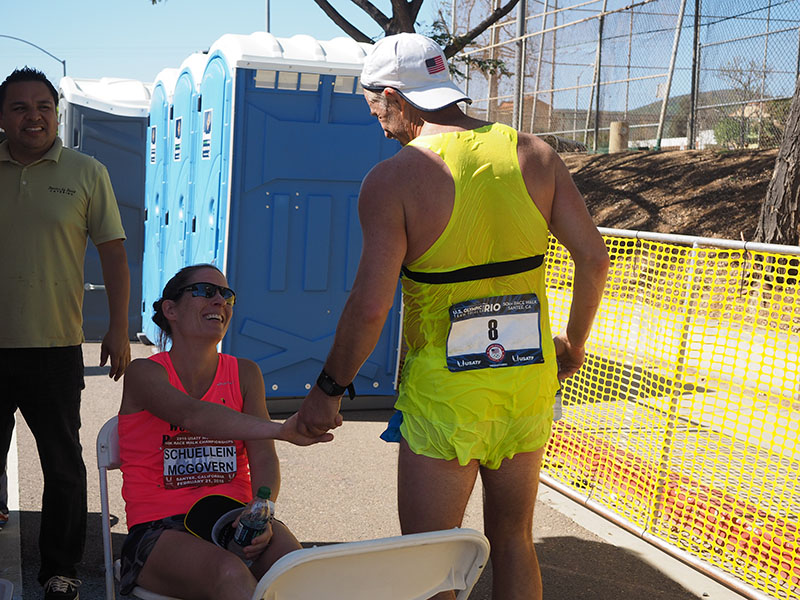 and immediately congratulates wife Loretta Schuellein Mcgovern, who finished ahead of him and brought home the family bacon with a great finish in the Women's 50K nationals conducted conscurrently on this same course, but starting two minutes later.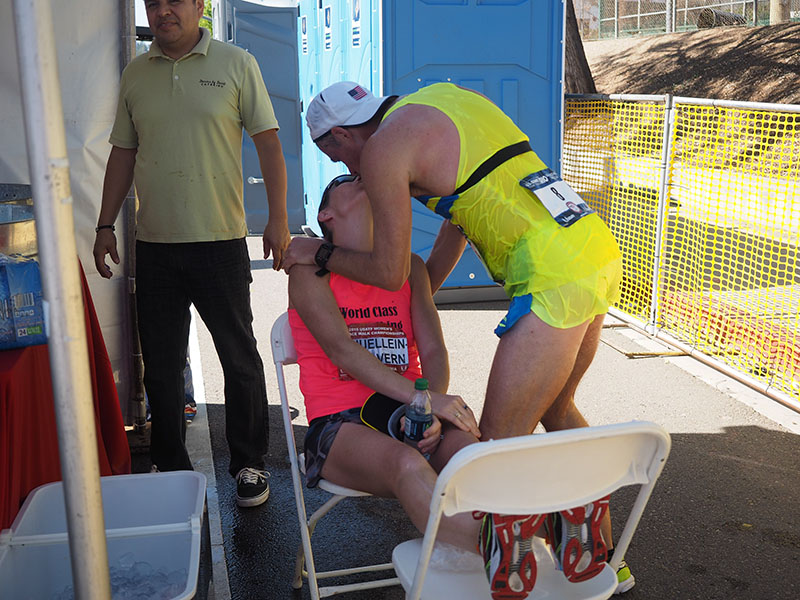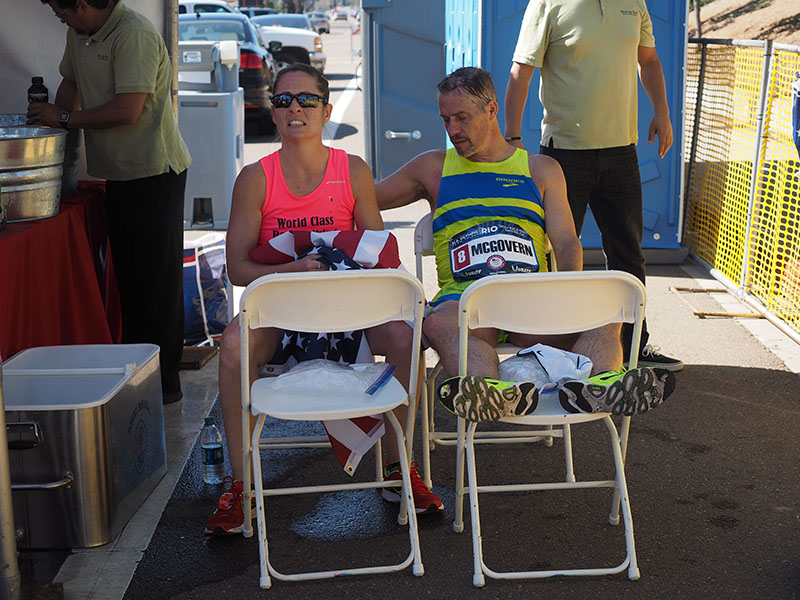 The family that sits together stays together?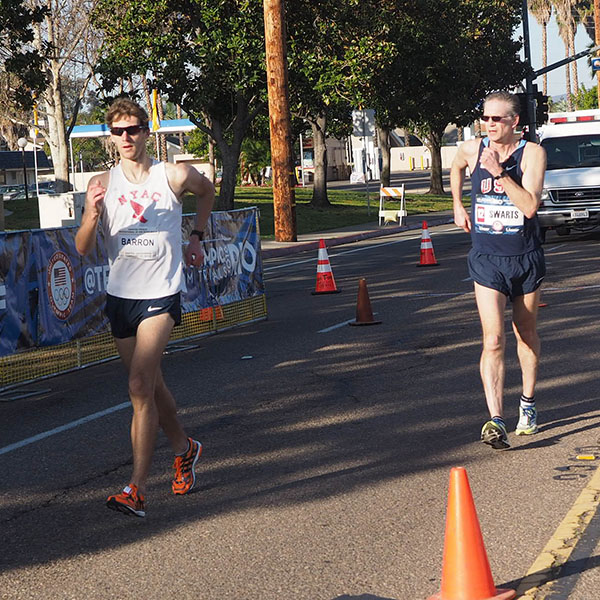 Quite early in the 50K David Swarts had some illustrious company, 2012 Olympian in 20K, Trevor Barron, passing him. Dave completed 38 laps before time was called. He had started out at nearly 9 min/mile and slowed to almost 15 min/mile before getting an NT (No Time). He was out on course for almost six hours.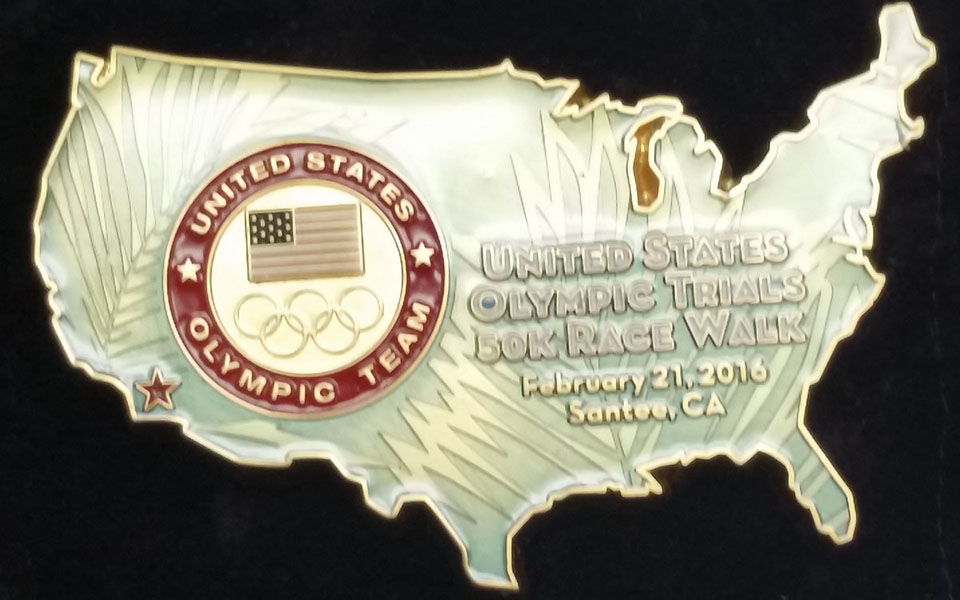 Here is link for results https://www.usatf.org/usatf/files/34/34898fb1-740a-469f-8c6a-9cbeea47be3a.txt