Results
2016 Men's 50km U.S. Olympic Team Trials Race Walk 2/21/2016--The Road to Rio "Santee, CA" Page 4 of 6
Going for Nomination to Team USA.
Now the race has begun, but the ending seems already determined. Christie is in a slight lead, but his pace and form have remarkably deteriorated for the worse. Nunn, who the night before the race was feeling so ill with flu-like symptoms and wasn?t sure if he could even start, has soldiered through half of the race and after two hours of racing is finally settled into a good pace that should allow him to finish and even meet the Olympic Games standard. Christie will have to gather all his resources and try to finish under 4:06:00.
Back in 2012 Nunn had a head to head battle with Tim Seaman. Back then for Olympic Game qualifying times, there was an A-standard time of 3:59:00 and a B-standard of 4:09:00. That has all changed with only a single OG of 4:06:00. If that had been in effect in 2012, Tim Seaman would have joined John Nunn on Team USA. The irony is that IAAF only recently revised the OG standard from 4:03:00 to 4:06:00, perhaps due to eliminating any tainted performances by race walkers who had been sanctioned due to doping. Had that been the case back in 2012 (only one OG standard at 4:09:00 instead of the A and B), Tim Seaman would have made Team USA at age 39 and been able to compete in the London Games. Instead Tim was a self-funded spectator attending because his wife, Rachel Seaman was competing as a member of the Canadian Olympic team in the 20K race walk. After the London Olympiad, Tim made the difficult decision to retire from competitive race walking and focus on other activities that permitted him to, in a sense, give back to the race walk community by coaching future Olympians.
Tim has never looked back. He retired from competition at the virtual peak of his illustrious and national record-setting career and now spends time during his day job coaching at Cuyamaca Community College where he is the cross country coach, but also training future Olympians in the sport he passionately loves. We know Tim loves race walking. He coaches or knows well people who will be competing in Rio for the 20K race walk, men and women. Tim holds dozens of U.S. open records in race walking. If he chose to continue as a master athlete in the masters divsion, he could have added records there, as well as age-group records. Instead Tim coaches the future generations of race walkers and unselfishly places his efforts there instead of personally collecting race walk records that would be his for the taking. Tim is multi-faceted. He is now a father. There are several athletes competing this Sunday in this 50K and two other events, but more specifically the invitational 20K, who likely will be in Rio or at the Tokyo Olympic Games in 2020. That is another story for another time.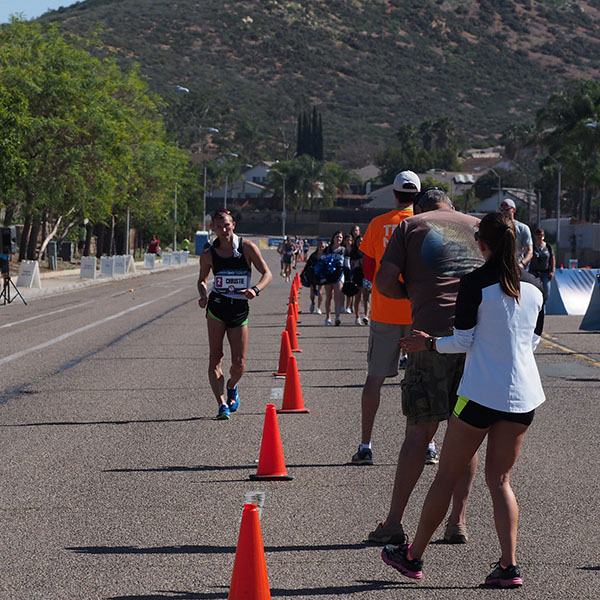 Christie comes into sight inbound well ahead of Nunn.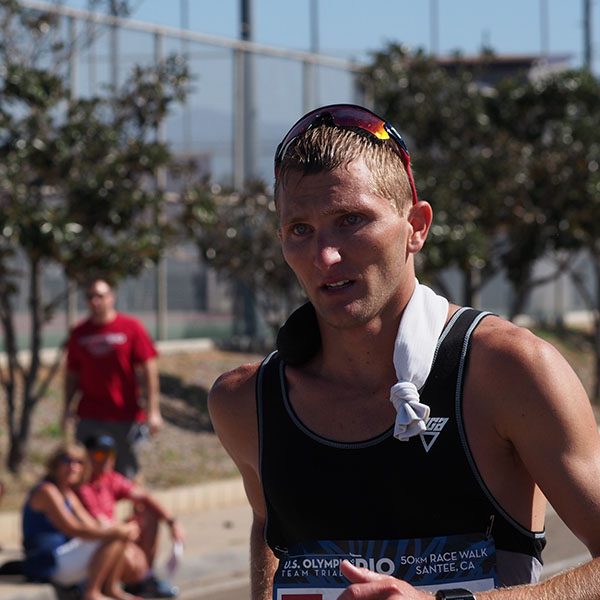 But his determination is belied by the look on his face.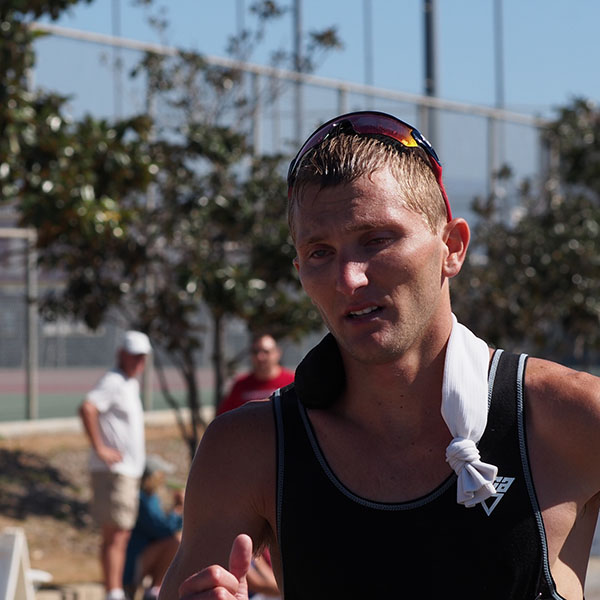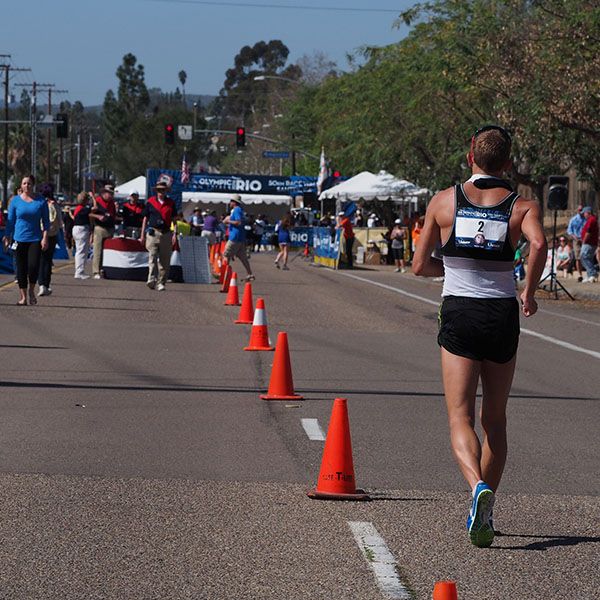 Just keep on moving and keep that head up.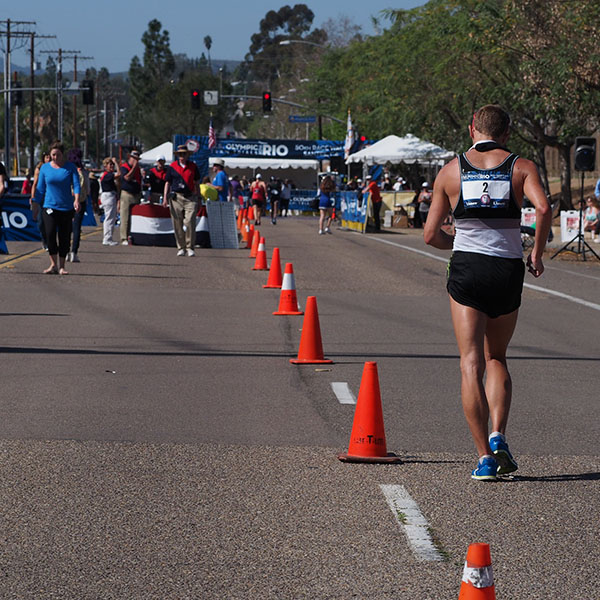 Despite determination and a strong will, it might be too late and past the point of no return.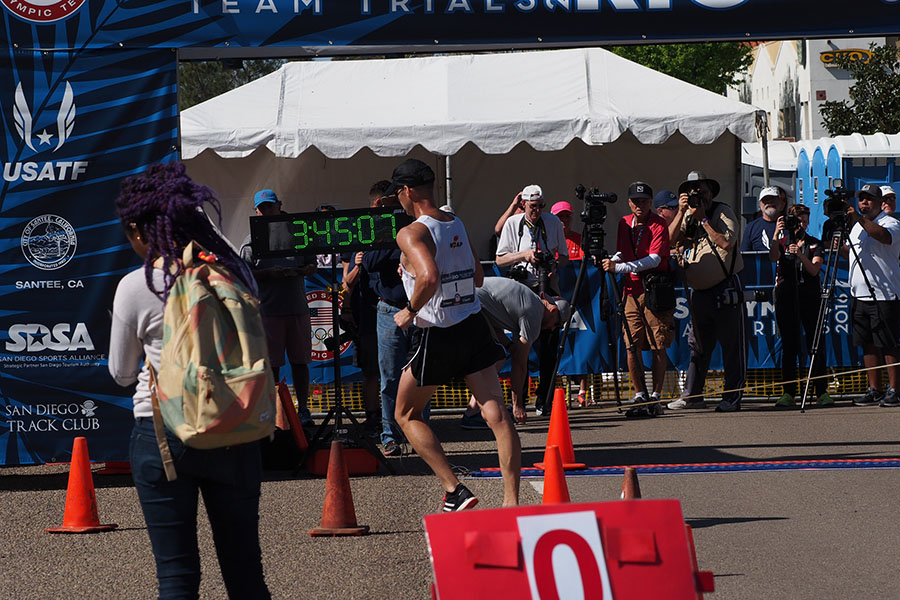 Nunn is holding a steady pace and feeling good with three laps to go.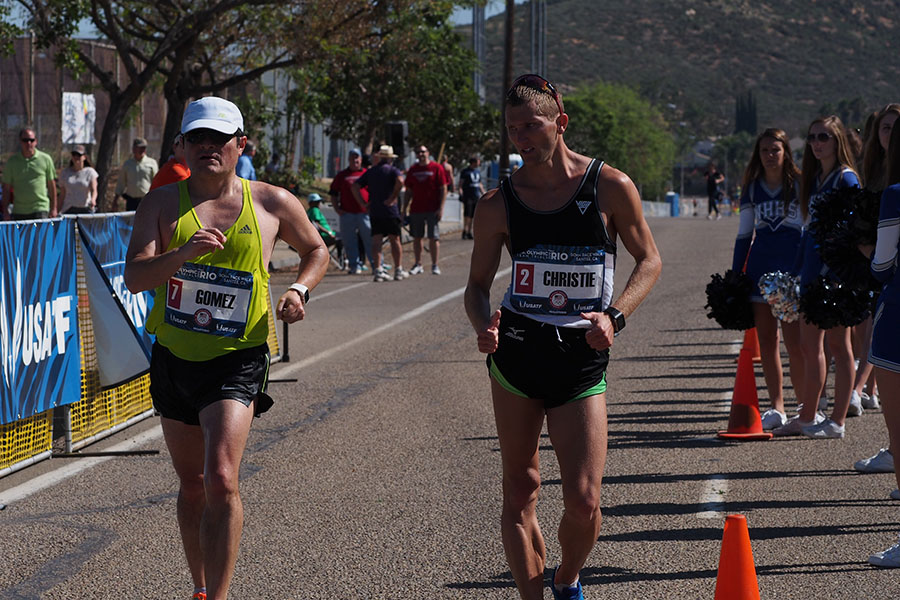 Christie has slowed so much that Pablo Gomez, nearly 40 minutes behind, has (egads!) passed him.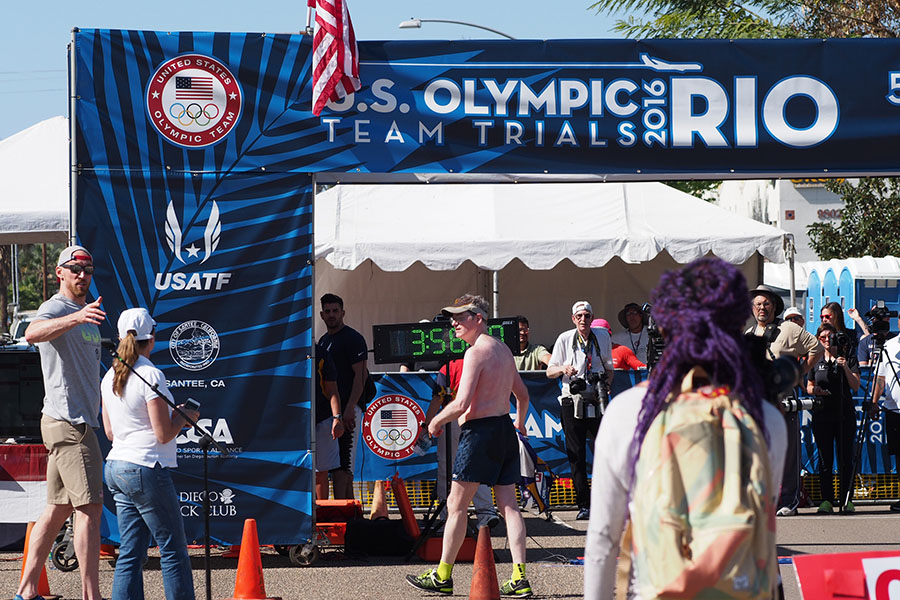 Bruce Logan has removed his shirt after receiving a red paddle and DQ. He was averaging 13:43 min/mile and almost two hours behind Nunn. In an ironic pre-race comment to a reporter, he boasted that he was by far the slowest in the field.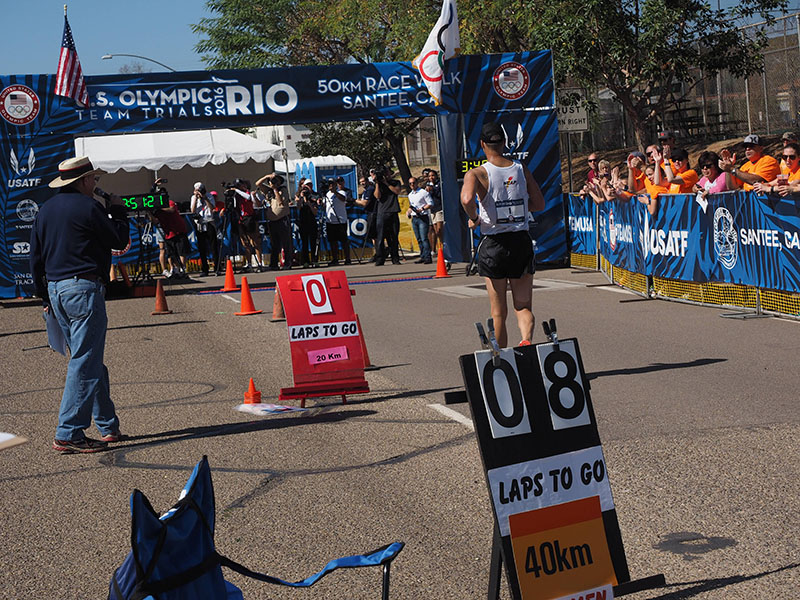 Nunn has two laps to go and TEAM NUNN in orange shirts cheers him on.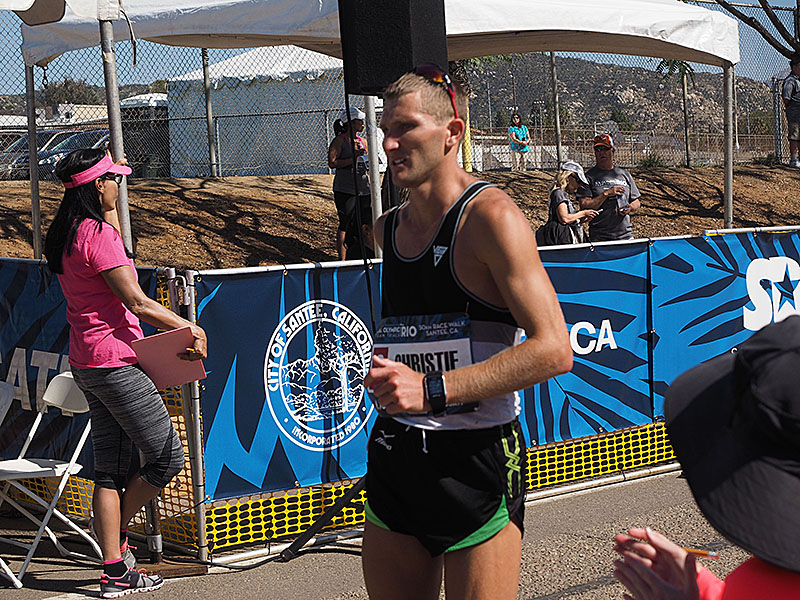 Five minutes later and over a lap behind Nunn, Christie has two laps to go.