Results
2015 Penn Relays Womens 5km Race Walk - Page 4 of 4
The women's race followed promptly after the men's and did not disappoint. We had our deepest field of high school and junior race walkers ever. The standard which used to stand at 31-32 minutes is now 27:45 to qualify. The faster junior times are also squeezing out the open competition. We only had two open athletes quality and one had to DNS due to a family emergency. The reality is that with many of the elites skipping Penn for the Pan Am Cup, the juniors were faster than most of the open applicants. As we always viewed this race as a development race for young walkers building into a distance race, we gave preference to the juniors/high school walkers and they delivered!
Luckily for us, the open women were well represented with Olympian Maria Michta-Coffey putting on a solo show.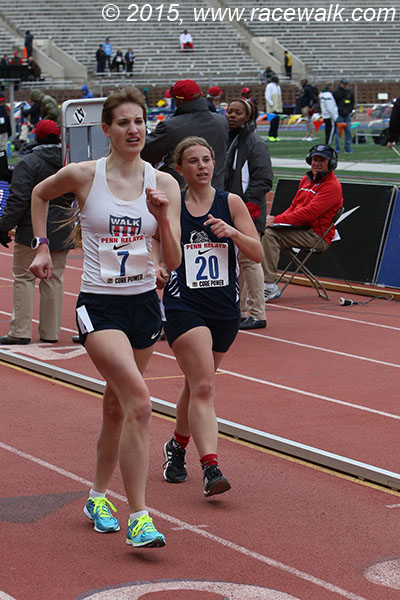 Katie Michta (#7) lapping Natalie Cohen (#20).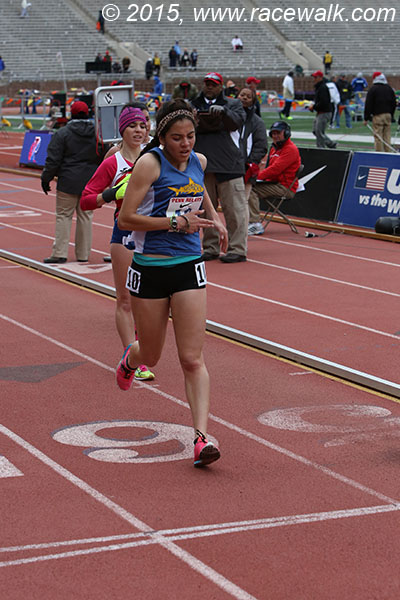 Anali Cisneros pushing hard through the finish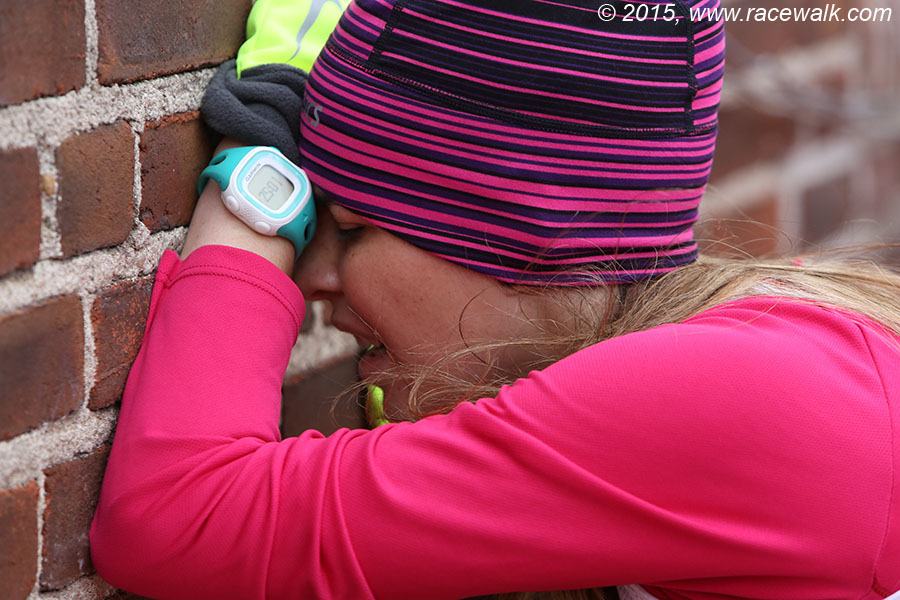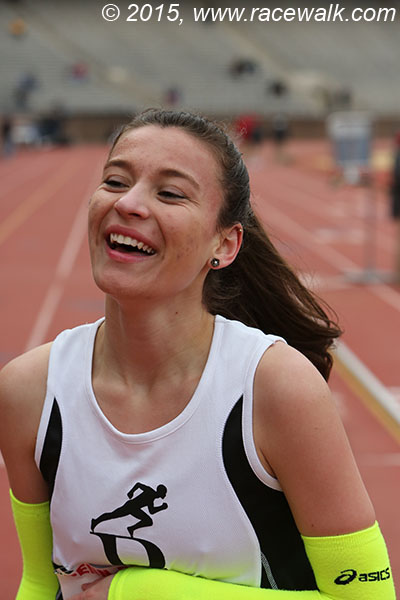 I love when athletes may not win, but are still happy, because of a personal achievement. Great Job!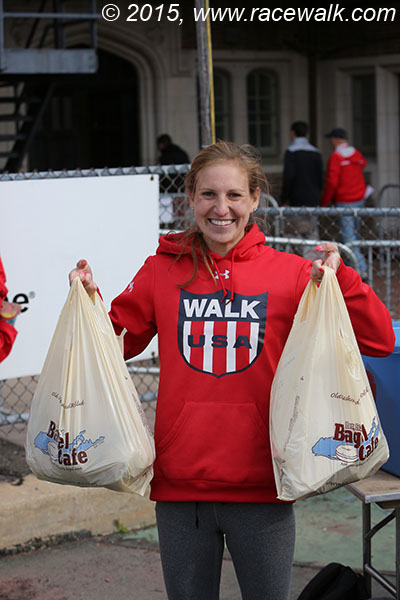 I love even more when athletes bring NY bagels. After all there are no other kinds of bagels.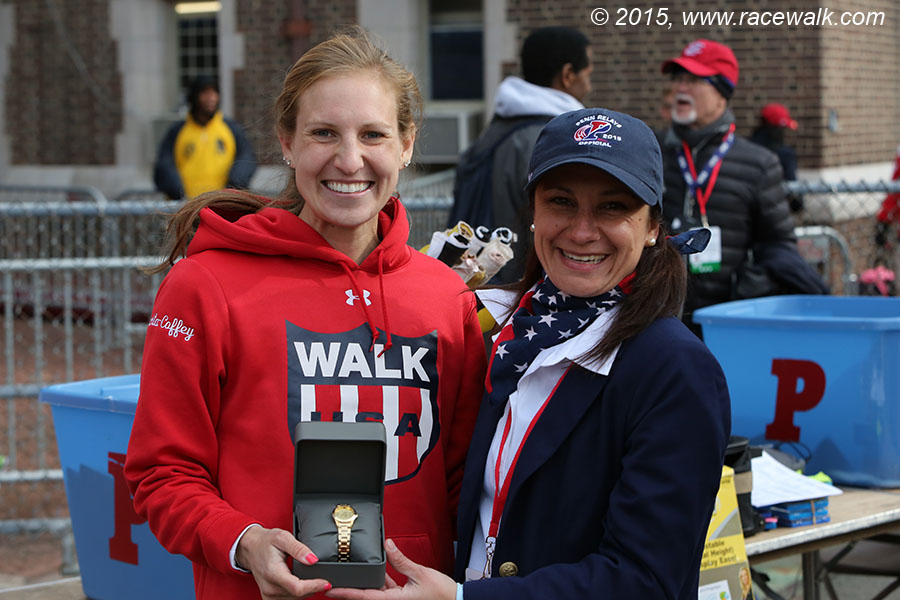 Race Walk Events Coordinator Solomiya Logan (Great Job!) and Maria Michta-Coffey as she received her watch.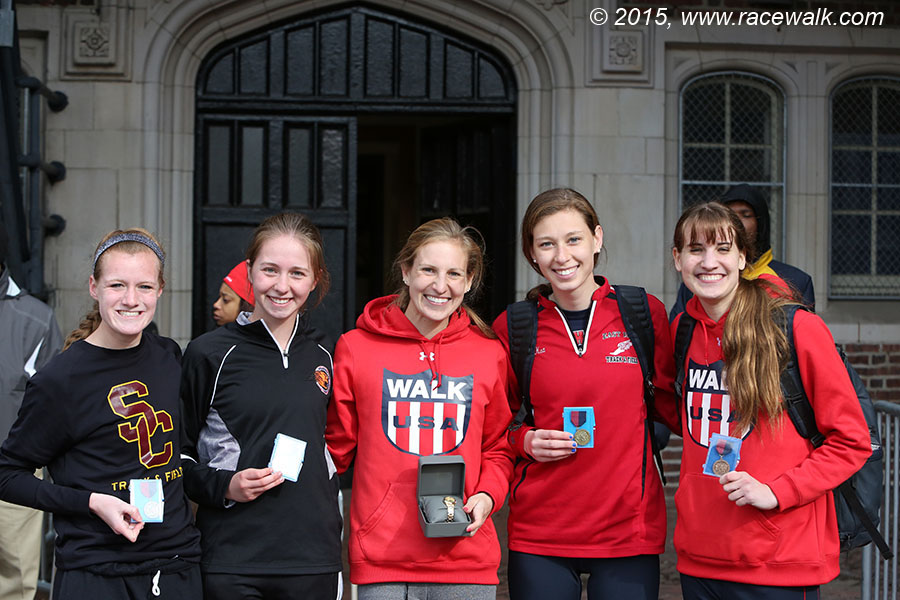 Masters Women's 5K Race Walk
 1       Marianne Daniel          CT Racewalkers             27:37.50
 
Junior Women's 5K Race Walk
  1      Rachelle DeOrbeta        Puerto Rico                23:00.84
  2      Ashleigh Resch           Unattached                 23:31.20
  3      Katie Michta             Walk USA                   24:22.11
  4      Anali Cisneros           Elgin Sharks               24:37.21
  5      Charmaine DeOrbeta       Puerto Rico                24:38.08
  6      Veronica Burke           Ballinasloe AC             24:49.93
  7      Rachel Glennon           Mullingar Harriers         25:23.86
  8      Kayla Allen              Maine Racewalkers          25:35.70
  9      Sinead O'Connor          Celbridge                  25:51.55
 10      Edel Glennon             Mullingar Harriers         26:02.47
 11      Nayeli Cisneros          Elgin Sharks               26:11.34
 12      Jennifer Lopez           St. Ambrose                26:14.25
 13      Sydney Sirois            Maine Racewalkers          26:33.19
 14      Kristi Licursi           Marist College             26:46.14
 
High School Girls' 5K Race Walk 
  1      Katharine Newhoff                          -        24:14.56
  2      MeaghanPodlaski                            -        24:22.93
  3      Amberly Melendez                          -         25:15.59
  4      Natalie Cohen                                  -    26:21.25
  5      Lauren Harris                                   -   26:47.25
  6      Melissa Tylock                                -     27:00.02
  7      Monika Farmer                                -      27:48.77